A Ceramics Workshop in Manises
In the town of Manises, you'll find a few workshops which offer the chance to try out the art of ceramics. The most popular is hosted at the Association of Valencian Ceramics, or AVEC. A week after our initial tour of Manises, we showed up at AVEC's doors, ready to learn.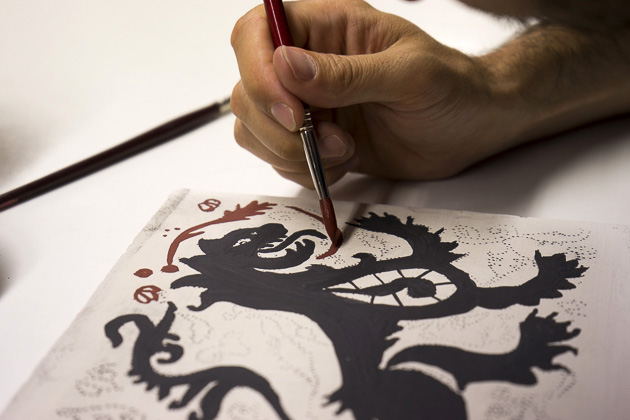 AVEC is just outside the town center, in a building so large it might as well be a factory. The workshops are apparently meant for big groups, but today the only students were Jürgen and myself. Lessons are offered in a variety of disciplines, including spinning on a wheel, and although we were sorely tempted to re-enact a sultry all-male version of that scene from Ghost, we opted for something more simple. I would be practicing the ancient art of socarrat, while Jürgen chose to paint a varnished vase.
Socarrat is one of the oldest forms of ceramics from Valencia, dating back to the days of Moorish rule. A rectangular clay tile is covered with a white base, decorated with a motif in red and black paints, and then fired in the oven. These tiles were mostly used to embellish the empty areas between wooden ceiling beams, and patterns could be anything from religious verses to mythical creatures.
I chose to paint a dragon onto my soccarat tile. Now, I'm not exactly blessed with artistic talent; any fire-spitting dragon drawn by my hand would probably look more like a vomiting poodle. Luckily, I was allowed to stencil an already-completed dragon onto the tile. From here on out, I had to color within in the lines, and this is a skill I possess. Within a half-hour, I was done. The carbon tracing would disappear in the fire, and no one would be the wiser.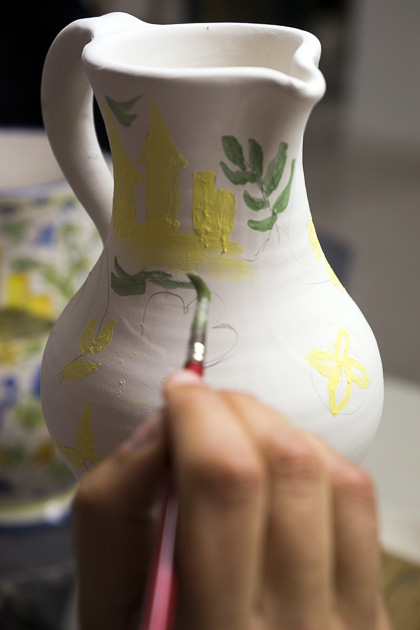 Task complete, I could now turn my attention to Jürgen, whose chosen artistic endeavor was a couple levels beyond mine. Following a model, he was painting floral and architectural scenes onto a vase. My surface had been flat, his was curvy. I had used two colors, he had to deal with seven or eight. I could paint within traced lines, he had to use imagination and skill. Certain that it would be a disaster, I was inwardly rejoicing in the mockery I would soon be unleashing upon him. But actually, his vase turned out really nice. Curses!
The workshops at AVEC are offered by Drac Ceramics, and our teachers were great; during the course, they explained a lot about the history of ceramics in Valencia, and were fun people to spend the morning with. If you'd like to do something similar, get in touch — the workshops are reasonably-priced, and after a couple days, you can return to pick up your own very brilliant pieces of art.
AVEC – Website