Today, the town of Manises is best known as the location of Valencia's airport, but that hasn't always been the case. For centuries, the name Manises had been synonymous with "ceramics." We spent a day in the town, learning about the industry which has long fueled its economy.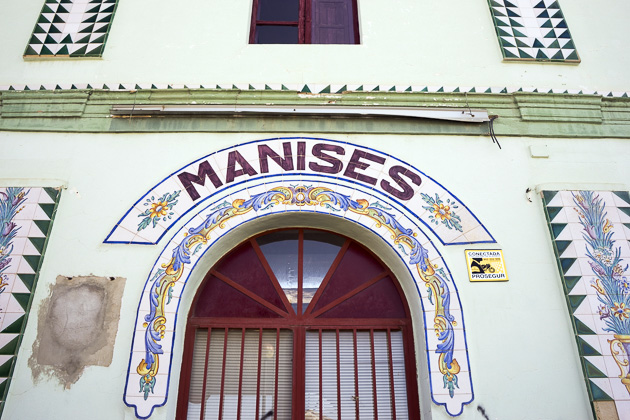 Manises is near enough to Valencia to be considered a suburb, but this is a city with its own history and identity. It was inhabited during the days of the Romans, but found its footing after the arrival of the Arabs, who turned it into a center for their lusterware ceramics. The town continued to produce some of Europe's finest and most sought-after ceramics up until the 18th century, and pieces from Manises decorated palaces across Europe, from Italy to Istanbul.
Production waned in the 19th century, but although the town has lost its prestige and international reputation, ceramics are still the most important aspect of Manises' identity. Walking through town is like touring one big ceramics shop — hand-painted tiles decorate the streets, the parks, and many of the buildings. There are plenty of workshops, and you'll find stores which sell generic styles in bulk, as well as specialists producing unique, hand-designed patterns.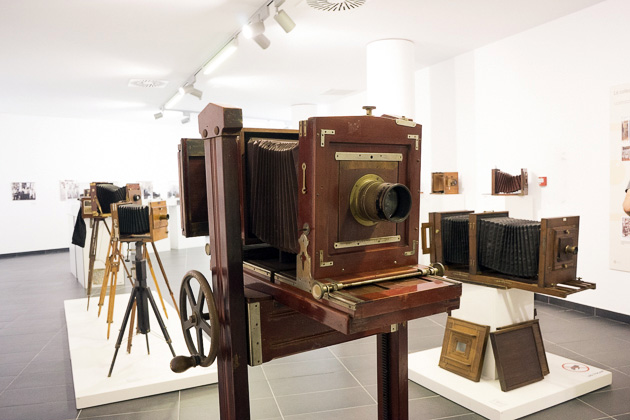 After exiting the ceramics-decorated subway station, we started our exploration of Manises in the nearby Parque Els Filtres. Here, we took an illustrated tour of Spanish history, following a path that led past dozens of large ceramic paintings. The town's tourism office is next door to the park, and I probably don't need to mention it, but its facade is covered in ceramics. On the upper floor of the tourism office is an eclectic photography museum. With a collection of hundreds of cameras from the earliest days of photography, this was an unexpected highlight of our visit to Manises.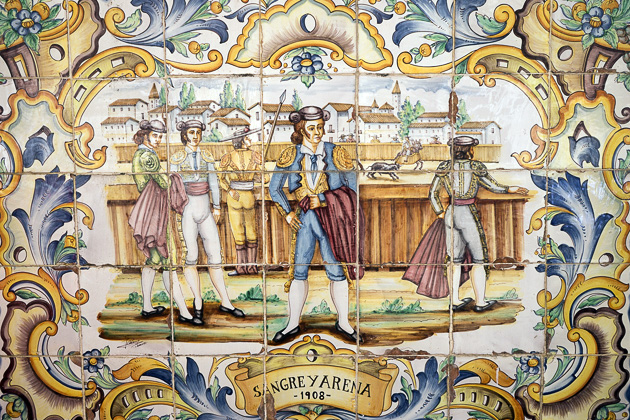 One of the town's main streets is the Avenida Blasco Ibáñez, where the books of the famous Valencian author are illustrated in a series of… you guessed it: jello molds. I'm sorry, I meant ceramics, of course. Following a self-guided walking tour we'd picked up from the tourism office, we came upon the old Ceramics School (now a public school), the historic facade of the old Francisco Valldecabres tile factory, and the city church. The Iglesia Parroquial de San Juan Bautista was unfortunately closed during our visit, but apparently has a beautiful interior replete in antique tiles.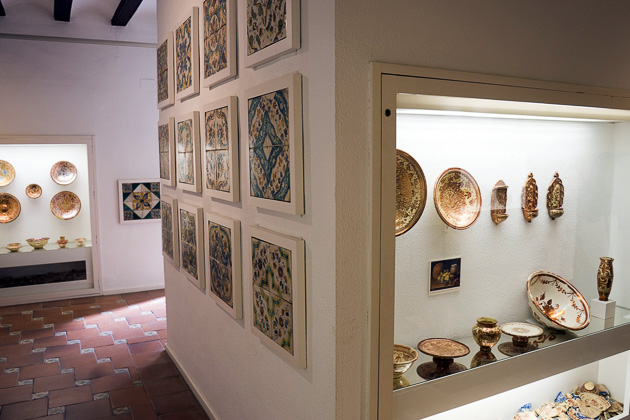 You might suppose that by the time we reached the Museum of Ceramics, we'd have had enough. And you wouldn't be entirely wrong. But we trudged into the museum like weary soldiers. And happily, it was a lot more interesting than we had feared, with engaging accounts of the industry's history and descriptions of the various production techniques used throughout the centuries, from socarrat to polychrome. On the top floor, there's a small gallery with modern works, demonstrating that ceramics doesn't have to be all pots and plates.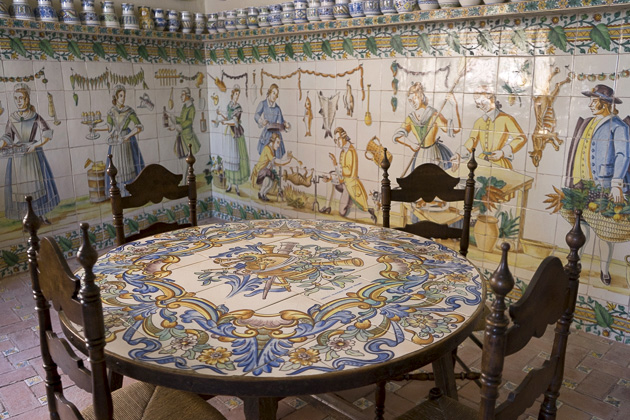 On the outskirts of the city, on Calle Huerta, is La Cerámica Valenciana de Casa José Gimeno Martínez, which is both a shop and a type of museum dedicated to one of the town's modern masters. Every inch of this place is covered in tiles. To visit, you might have to knock at the downstairs workshop — the guy who opens the door is usually at work on new tiles specially-ordered by private customers. In this corner of town, you'll also find the AVEC Gremio, which runs Manises' most popular workshops for visitors. We would return in a few days to take part in one, ourselves.
This had been a long day of sight-seeing, and we were starving by 2pm, so we marched over to Casa Guillermo. Set inside an old ceramics factory, this restaurant has been operating since 1957, and is famed throughout Valencia for its anchovies. The factory building, which is circular and almost looks like a bull ring, dates from 1870 and has been declared a protected monument. Both the food and the service at this restaurant were excellent, and it was a great way to end an entertaining day in Manises.
Locations on our Map: Manises Subway Station | Tourism Office | Ceramics Museum | La Cerámica Valenciana | Casa Guillermo