Rent Our Apartment In Valencia!
Jürgen and I live in Valencia, but we spend at least half the year traveling the globe. And when we're not at home, we rent out our apartment in Valencia. If you're looking for a base from which to explore Valencia, you might want to consider our place. Wait… do I sense some hesitation? Well, please allow me to convince you.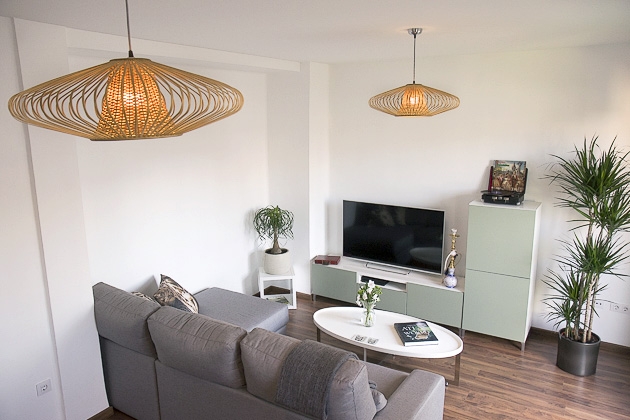 From the beginning of our apartment hunt, we knew that we'd be using it both as a home for ourselves, and as a vacation rental for others. So there were two sets of criteria to meet — we had to satisfy both our personal desires, and the possible requirements of future guests. The search for our apartment took longer than anticipated, but we finally found the perfect place.
Check availability and prices on AirBnb.
Location: La Xerea, just off Calle Mar – General Map of the Area
Type: Entire Apartment
Size: 77m² (+ 15m² Terrace)
Rooms: One Bedroom, One Bath, Living Room, Kitchen, Terrace
Accommodates: Two Guests
Amenities:
High-Speed WiFi
Elevator
Terrace
55″ HD Sony Bravia
PlayStation 4
Record Player
Heating
Air-Conditioning
Fully-Equipped Kitchen
Microwave
Washing Machine
Dishwasher
Location Is Key. Our apartment is in the heart of Valencia, in the neighborhood of La Xerea. For years, we had considered this the perfect spot for a home, and we were thrilled to buy a place here. Just off Calle La Paz, it's extremely central; we're minutes from all the downtown sights. You can walk to both the Mercado Central and the Mercado de Colón in ten minutes (we've timed it), there are plenty of supermarkets and services close by, and the Turia Riverbed Park is just down the street.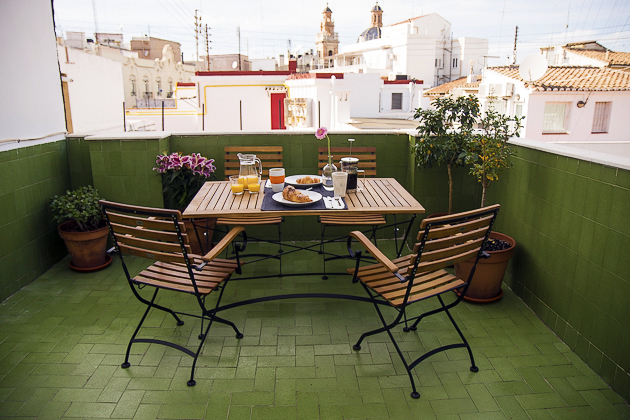 Quiet Nights. Despite its central location, our block is blissfully peaceful. Our narrow street is a de-facto pedestrian zone, down which cars rarely drive. Even if there were a lot of noise outside, our bedroom is set back away from the street. And every window in our apartment is protected with mosquito screens, so you won't be bothered by the blood-sucking pests.
It's Nice Outside. If the location drew us in, it was the terrace that sealed the deal. Our apartment is on the fifth floor, and our green-tiled terrace boasts a wonderful view over the old rooftops and church towers of La Xerea. This is where we eat our meals, where we entertain friends, and where we relax at the end of every day.
Historic But Modern. After purchasing the apartment, we had the entire place renovated. We put in new floors, installed a brand new bathroom, removed walls to create a more spacious feeling, and put in a new kitchen decorated with hand-crafted Valencian tiles from Manises.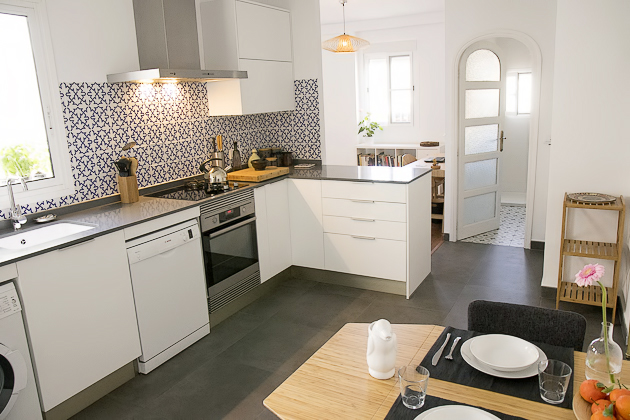 Who Needs Restaurants? We cook a lot, so our kitchen had to be perfect. We made sure to have a lot of space, and insisted on high-quality appliances. Jürgen is two meters tall (6'6″), so we weren't going to accept a cramped, small space. And there's nothing old-fashioned about it: the fridge, microwave and oven have A+ energy ratings, and the stove-top has both induction heating and gas.
Work, Relax and Play. The living room is large, with a desk on one end and a 55-inch TV on the other. We have a PlayStation 4, and a decent collection of films on both BluRay and DVD. There are games, books, a record player, and a huge sofa on which to stretch out at the end of a long day. And of course, there's high-speed wireless internet — as two people who work online, we know the importance of having a fast, reliable internet connection.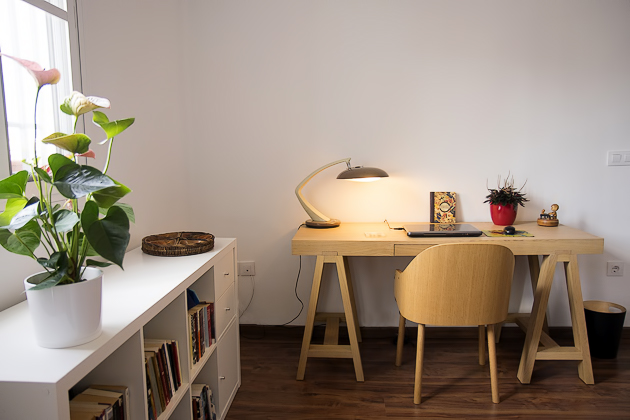 Wait… there's more! Shall we continue the tour? Step down the hall, into the bedroom. The best feature here is an enormous cabinet which extends along the entire wall, complete with two massive mirrors that reach from the floor to the ceiling. You'll have plenty of room for your stuff, even if you're a certified five-suitcase psycho. And while the bathroom isn't massive in scale, we think you'll agree that it's comfortable and cozy. So cozy you'll never want to leave.
Nuestra casa es tu casa. And keep in mind that this isn't just a vacation rental. It's our home. We have a big TV because that's the TV we wanted. We have a PS4 because we wanted that. (Well, I wanted it.) We have good equipment in our kitchen, because that's where we cook. (Well, where Jürgen cooks). And you can bet that our bed is comfortable. (That one was for both of us.) There are so many vacation rentals which look nice in pictures, but it soon becomes obvious that the owner has never spent a single night living there. Rest assured that this is not the case with our apartment.
So if you're interested, check out availability on AirBnb! We'd like to rent to singles or couples — there's just not enough space for more than two people at a time.
If you're planning on spending some time in Valencia, this is a central, comfortable, and secure option. And if you're not planning on spending time in Valencia… tell you what. Go page through For 91 Days in Valencia, and then tell me you're not interested. This is an amazing city… and one which you'll most enjoy if you have an amazing place in which to stay.
Apartment License #: VT-41962-V
Photos Of Our Apartment in Valencia