The Mercado de Colón opened its doors in 1916 as a marketplace for the well-to-do residents of the Ensanche (or "Expansion"), which was at the time Valencia's newest neighborhood. Today, the fruit and veggie sellers have been replaced by cafes, and the Mercado de Colón has evolved into a popular location in which to hang out with friends and relax.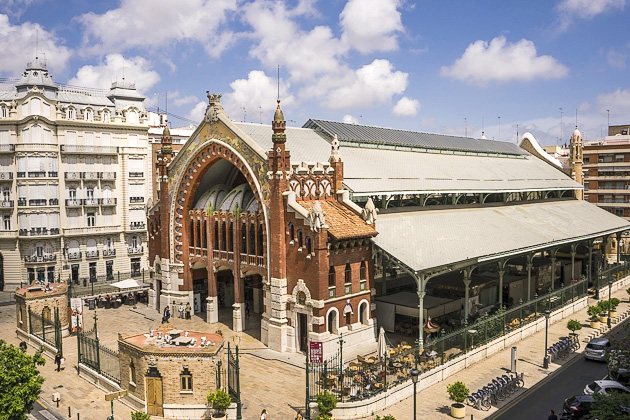 Having undergone a total restoration in 2003, the Mercado de Colón is in wonderful condition, and seeing it for the first time is one of the best "wow" moments Valencia has to offer. Approach from C/ Jorge Juan in order to see the market's facade: a giant brick arch capped with mosaics that capture a romantic scene from l'horta: the fields which surround the city.
The interior of the market has been designed to fully utilize Valencia's abundant sunlight and agreeable climate. The lateral walls are made of glass and can be opened, allowing a breeze to circulate through. The glass also creates an illusion that you're underneath a big tent, and not within the confines of a large structure made of steel and brick.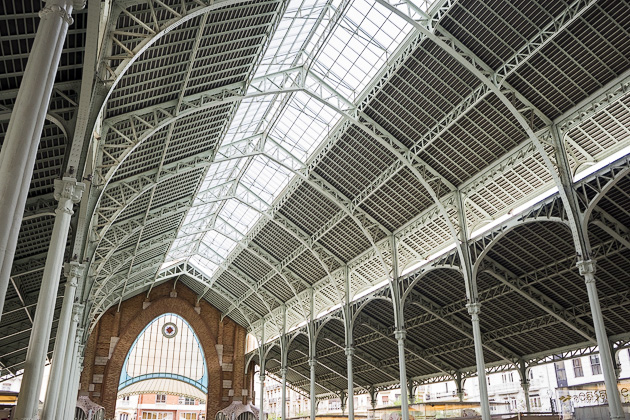 Almost every time we pass by the Mercado de Colón, we're able to invent an excuse for sitting down. It's the perfect spot for a morning breakfast, a midday coffee break, a late afternoon horchata, or tapas at night. And though there are a lot of different cafes, they're all interchangeable in my mind. I usually choose the one with the comfiest-looking seats, or the most promising people-watching opportunities: the neighborhood of Ensanche is just as upper-class as it was back in 1916, and the Mercado de Colón is the best place to watch its affluent, well-groomed denizens come and go.
There are frequent cultural events in the market, including a series of classical concerts on Sundays, wine tastings and art shows. And on the basement floor, you'll find a couple popular cervecerías offering international beers and tapas, as well as a sushi bar.