The Glory of the Baroque: The Iglesia de San Martín
Back in 2010, Valencia unveiled the results of an effort to restore three of its most impressive Baroque-era churches: the San Martín, San Esteban and San Juan de la Cruz, all located a short distance from each other in the city center. If any of these had been my childhood church, I might have grown up with a different idea of "God": not some wizened, white-bearded grump sitting on a cloud, but a flamboyant show-off with a flair for the extravagant.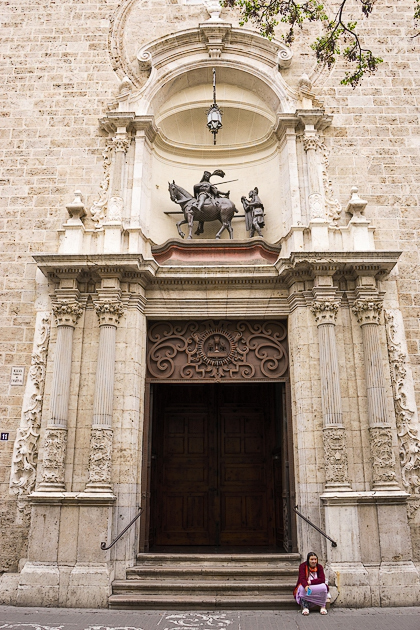 The Iglesia Parroquial de San Martín Obispo y San Antonio Abad (commonly known as the San Martín), is one of the oldest churches in the city, built in the 14th century atop the remains of a mosque. The church has gone through various expansions and renovations over the years, and took its final shape in the mid-18th century. Recently, a government-funded team of specialists called La Luz de las Imágenes worked to restore the church's Baroque interior to its original glory.
And what a glorious job they've done. The color scheme is white and gold, and with the abundant sunlight that pours into the church, the effect is dazzling. The statues are white with golden clothing and accouterments, the white walls have intricate golden frames for the paintings, the columns are in white with golden spirals running up their length, and the ribbed vault… you get the idea: white and gold. The entire church is a piece of art.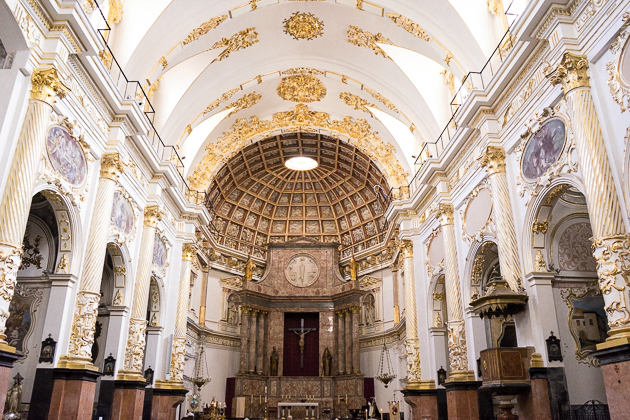 But the most remarkable feature of the San Martín might be the dome above its altar, whose curved grid features 164 distinctive stucco carvings. Though it's too high above-ground to see much detail, the carvings range from biblical scenes and various saints, to floral designs and angels.
The San Martin can be visited every day between the hours of 10:30 and 11:30, and from 12:30 to 13:30, without disturbing any ceremonies. Otherwise, the doors are kept closed.
Real Parroquia de San Martín Obispo y San Antonio Abad de Valencia – Website
–Download Our Travel Books Here