A Tour of Valencia's Horchata Fields
The sun was beating hard upon our necks, and our shirts were soaked with sweat. It was Sunday afternoon in the middle of the oppressive Valencian summer, and we were walking through the horta nord of Alboraya, learning about chufa: the tiny tuber which is the principal ingredient in horchata.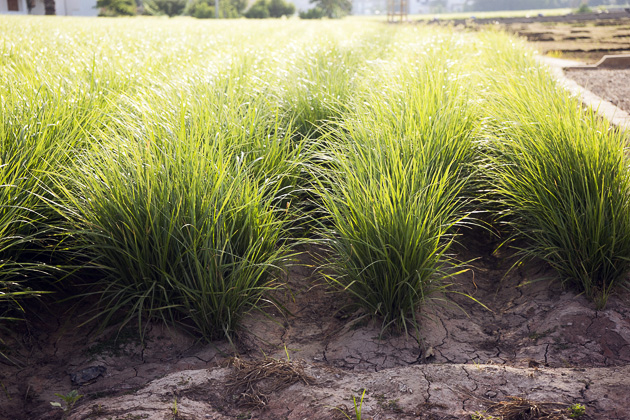 Horchata (spelled orxata in Valencian), is one of the most well-known products of the Valencian Community, right up there with paella and oranges. A milky-looking drink with a mildly chalky texture, horchata is popular throughout Spain, but in Valencia it's a way of life. On sticky summer evenings, the city's horchaterías are packed with people looking to cool down in the most delicious way possible.
There's a legend that explains the origin of the word "orxata." After taking Valencia from the Moors, King James I of Aragon was walking through the fields north of the city. It was hot, and he stopped at a farmer's hut to take a break, asking for something cool to drink. The farmer's wife served him a strange white liquid, which she called "Milk of Chufa." The king took one sip and proclaimed "This isn't milk. This is gold, darling!" (Aixo es or, xata!)
The king was on to something. Despite appearances, horchata isn't milk. It's made from a crop called the tigernut, or chufa. And the tigernut isn't actually a nut, but a tuber, like a potato. The miniature chufas are harvested in the fields around Alboraya, dried in warehouses, and blended with water, sugar and cinnamon to create a drink which can be enjoyed by both the lactose-intolerant and those with nut allergies.
Our tour was organized by Horta Vita, on an early Sunday evening. After a short introduction to the town of Alboraya, whose fortunes have long been tied to horchata, we headed off into the fields to see how it's grown.
Fields of chufa look a lot like fields of grass. Actually, more like weeds. Our guide, Miquel, explained that for many years, the plant was treated as a pest — early agricultural literature only mentions "chufa" when discussing how to rid one's fields of it. The chufa itself is a tiny, nut-sized potato that grows underground, at the root of the grass, and has a naturally sweet flavor.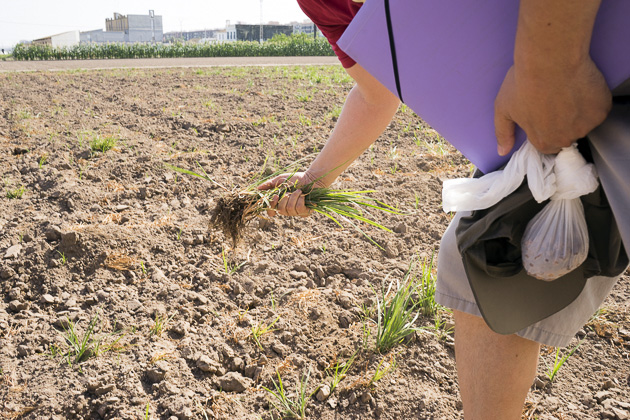 Our tour brought us by the Farton Polo factory. Fartons are the sugary pastries which elevate horchata from "pleasant drink" to "sinful treat." Eaten by themselves, these soft sticks of semi-sweet, squishy bread aren't all that remarkable. But they should never be eaten by themselves. Fartons are designed to soak up horchata like a sponge, and the combination is heavenly.
After walking about a kilometer through the fields, we ended up at the Horchatería Sequer Lo Blanch. By now, it was nearly 7pm, and the place was packed. I started to panic at the prospect of having to wait for my horchata, but luckily our group had a table reserved. And my good luck continued, when the girl seated across from me decided that she didn't like horchata. I nobly offered to help her finish.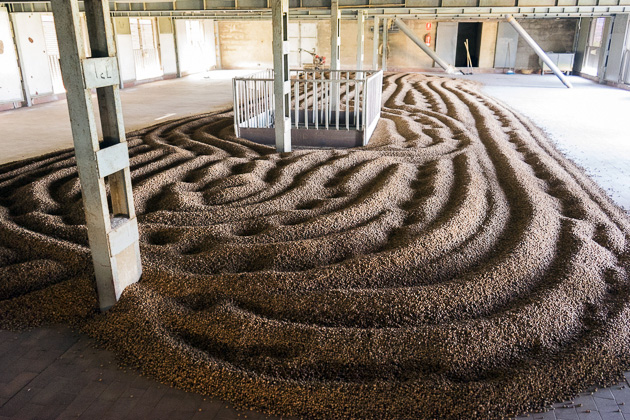 We now had the chance to visit the horchatería's upper floor, where the chufas are dried before processing. We saw some of the antiquated equipment farmers once employed, and then returned outside for a crash-course in horchata preparation. It's not that complicated — all you need is some chufas (soaked for a full day), sugar (a startling amount), water (ice cold) and cinnamon (optional).
This was a fun day out, and it's surprising that these fields so close to downtown Valencia; reaching Alboraya requires only a fifteen-minute subway ride. If you'd like to do this as well, get in touch with Horta Viva. Depending on the group, they also offer English-language tours. It's a great way to learn about one of Valencia's most unique and tastiest gastronomic specialties.
Location on our Map: Horchatería Sequer Lo Blanch
Horta Viva – Website (English)
–Rent our Apartment Here In Valencia