Buñuelos: The Traditional Snack of Fallas
Throughout Fallas, the smell of smoke and gunpowder is unavoidable on the streets of Valencia, but another odor is almost as prominent: that of greasy, deep-fried goodness. On seemingly every other corner, there's a stand selling buñuelos. A sweet, delicious, artery-clogging nightmare, buñuelos are Valencia's favorite festival snack, and are even more sinful when dipped into cups of thick, rich, hot chocolate.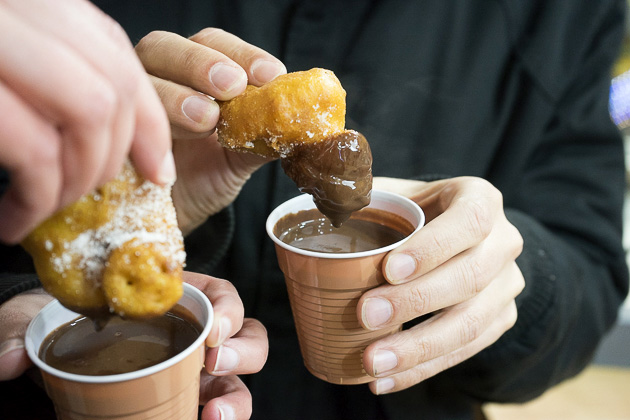 Buñuelos look like disfigured golden donuts, more-or-less round in shape, with a hole in the center. They're made quickly, with the cook grabbing a bit of the runny dough and dropping into a vat of oil. The buñuelos need a little time to fry, a little time to dry, and then are sprinkled with sugar and served piping hot in a paper cone.
Pumpkin is traditionally used in making buñuelos and, depending on the quality of the dough, their color will vary — more pumpkin results in more golden buñuelos. You can also find popular varieties filled with fig, pear or apple. We've tended to notice that the best buñuelos come from shops which have a permanent presence in Valencia — they're great at a stand on the southeast corner of Plaza Dr. Collado, for instance, and at a popular cafe on the north of the Plaza de la Virgen.
Outside of Fallas time, buñuelos are more difficult to come by, but you can find them at Buñoleria El Contraste in Ruzafa (location) or Horchatería Mari Toñi (location). Really, though, they're a snack which enjoyed strictly during the festival. Get'em while they're hot, and eat'em with chocolate. You won't regret it… until the next morning.
Locations on our Map: Plaza Dr. Collado | Plaza de la Virgen
–How to Cook Authentic Valencian Paella