La Ofrenda — Flowers for the Virgin
One of the most important events of Fallas is la Ofrenda, when tens of thousands of traditionally-clad falleros and falleras converge on Valencia, bearing flowers for the massive wooden figure of Our Lady of the Forsaken in the Plaza de la Virgen.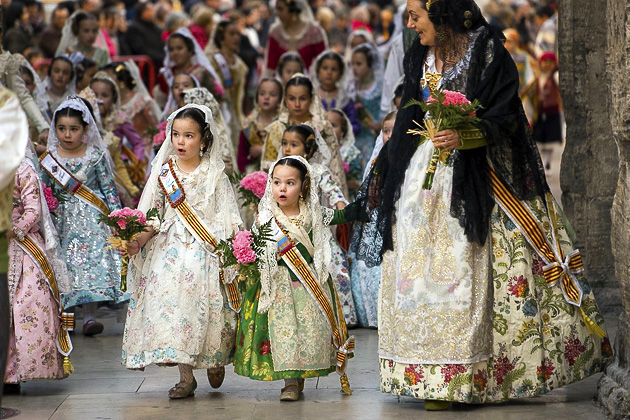 Traditionally, Fallas doesn't have much to do with religion; it began as a way to celebrate the end of winter, with sarcasm and fire. But the church has never met a festival that it didn't want to appropriate… and so we have La Ofrenda. Today, it's perhaps the biggest Fallas event of all: a two-day parade stretching over twenty hours and counting over a hundred thousand participants.
A towering model of la Virgen de los Desamparados is constructed in the Plaza de la Virgen. At the beginning, it's just her head set atop a brown pyramid of wooden scaffolding. But on March 17th, her dress begins to take shape. Falleros from each of the city's casals march through Valencia, all clad in traditional garments: sparkling dresses and black headdresses for the ladies, colorful vests and handkerchiefs for the men, and even elaborate outfits for the children and the smallest of babies. Marching bands blare out folk songs and traffic comes to an absolute halt — even on foot, certain streets are impossible to cross during la Ofrenda.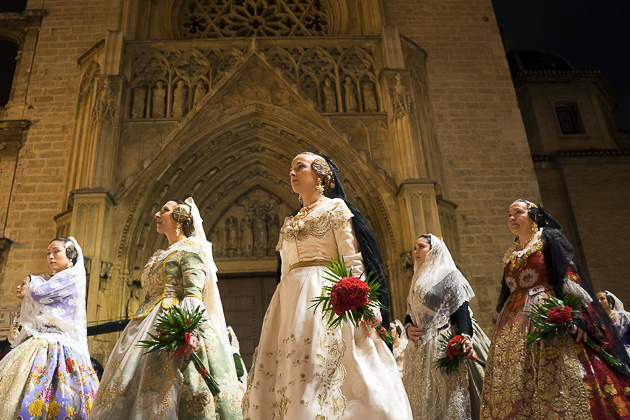 Once in the Plaza de la Virgen, the falleras pass their flowers to the team who are dressing the virgin. The stems and leaves are clipped, the colors are sorted, and the bouquets are tossed from the ground up to people standing on the scaffolding, who shove each rose perfectly into place. By the end of the second day of the offering, the dress is complete, blood red in color with swirling patterns of white and yellow. For many, the whole experience is simply too much to bear: the music, the tradition, the crowd, and the sight of the virgin. Sobbing falleras are a common sight at la Ofrenda.
The idea of over a hundred thousand people carrying flowers to a giant virgin over the course of two days might sound overwhelming. Well, it is. The stream of people goes on and on — you watch yet another cycle of kids, women and men, bands, flowers and dresses, and then it repeats. And then again, and again and again. It's an event which is hard to believe, and one of the most moving sights of Fallas.