Every year, regular life in Valencia comes to a screeching halt, as the city gives itself over to Fallas: a spectacular celebration of art, light, noise and fire that runs from the end of February to March 19th. It's a festival unlike any other, and comprises so many different elements that we felt a concise explanation might in order. What is Fallas, exactly?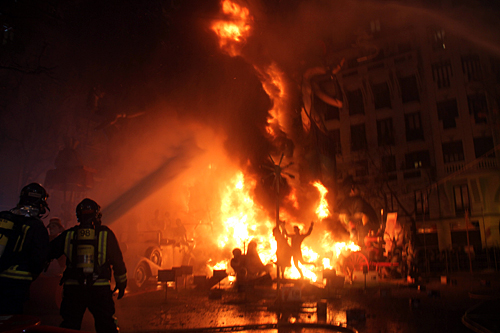 Our previous article was titled "This Is Valencia," and now we're writing "This Is Fallas." In truth, these two sentences are analogous. Valencia is Fallas, and Fallas is Valencia. One couldn't exist without the other. I mean, technically, Valencia would still exist should Fallas suddenly disappear, but its spirit would be gone. It wouldn't be Valencia anymore. Like, you go to see old Uncle Chuck in the hospital, who's hooked up to machines and so wasted away from disease you can hardly recognize him, and your mom pats your head. "That's not really Uncle Chuck, anymore, honey."
Here we go, in one (very long) sentence: Fallas is an annual festival celebrated throughout the province of Valencia to mark the end of winter, and symbolize the rejuvenation of the coming spring, by erecting and then burning hundreds of elaborate monuments, along with daily fireworks displays, endless parades, bullfights, religious processions, millions of visitors, and tens of thousands of locals in traditional dress, an enormous flower-covered virgin, paella competitions, fried pumpkin-donuts served with chocolate, pop concerts, drinking all night and dancing until the early morn.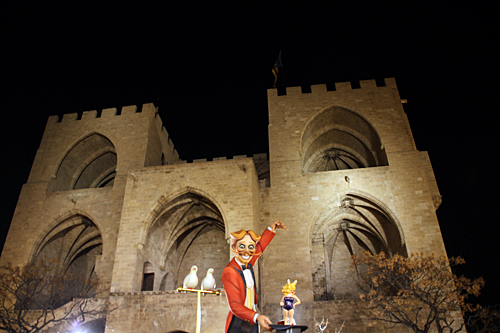 Yeah, that about covers Fallas. At least five percent it. Here's a run-down of the more important elements:
Casal – Every neighborhood in Valencia has its own casal, which is a kind of social club dedicated to Fallas. For them, Fallas is a state of being — not a festival which begins and ends. All year round, they're having meetings, choosing their queens, engaging in competitions, raising money, and planning their next monuments.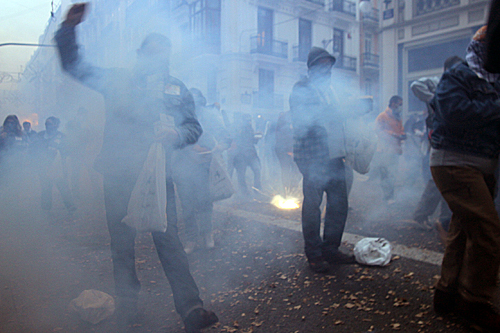 La Despertà – The "wake-up" call to Fallas, celebrated in grand style on Calle La Paz on the final Sunday of February. During the final days of Fallas, there are smaller (but also loud) despertàs in neighborhoods throughout the city.
La Cridà – The official opening ceremony of Fallas, also celebrated on the last Sunday in February, when the Fallera Mayor calls on Valencians to celebrate their culture.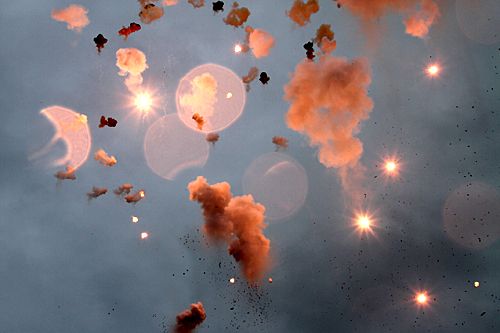 Mascletàs – Noise fireworks, which occur daily in the Plaza del Ayuntamiento from March 1st to March 19th, and also at various other times and places throughout the city… officially sanctioned or otherwise.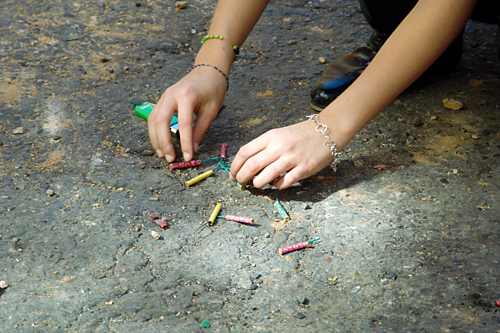 Petardos – (AKA firecrackers) A constant presence in the city throughout Fallas. And we're talking loud firecrackers, which always seem to go off right when you're taking a sip of hot coffee.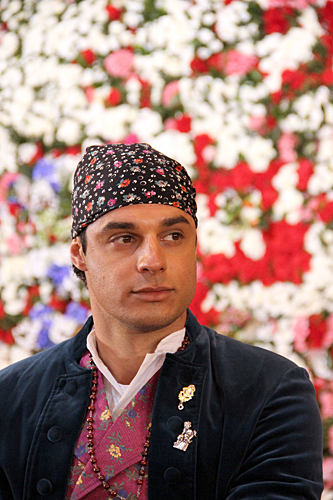 Falleros – The people who provide Fallas its soul. Whether dressed traditionally or not, anyone who loves and participates in Fallas is a Fallero at heart. Every casal chooses a young woman to be their Fallera Mayor, and a girl to be their Fallera Mayor Infantil. Among these, a "queen among queens" is chosen to represent the entire festival, along with the runners-up in her court.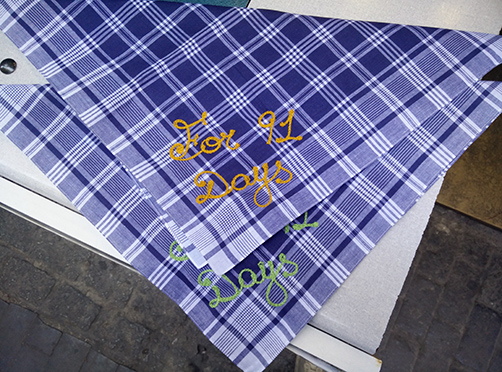 Pañuelos – The fashion statement de rigueur of Fallas. Almost everyone wears a pañuelo, or handkerchief, tied around their neck when attending mascletàs or other Fallas events. And anybody not wearing one immediately stands out.
Ninots – Valencian for "dolls." These are the individual figures which populate the Fallas monuments. Traditionally, Valencians would burn their wooden lamp posts at the end of winter. A tradition was begun to dress them up before burning, to pillory political figures or celebrities of the time, and these were the first ninots.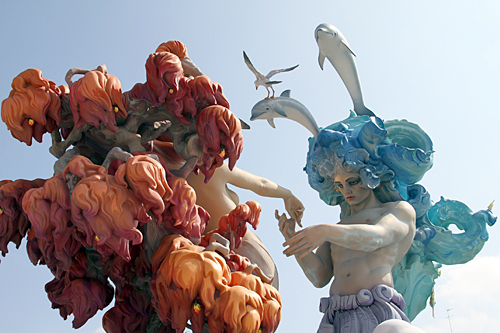 Falla – The ninots make up part of each casal's main falla, or monument. Fallas can be found in many forms and sizes. Those done by the smaller commissions are no bigger than a person. The largest — those from the sección especial — can be up to six stories high, and comprise hundreds of individual pieces. The monuments might be ironic, sarcastic, sentimental, hilarious, intellectual, perverted or political. And usually, they're all of these things at once.
Buñuelos – Fried donuts made from pumpkin, served with a cup of thick hot chocolate, and sold from stands on corners throughout the city, these are the favorite snack of Fallas.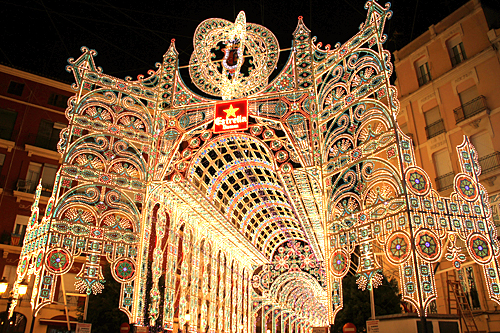 Street Lights – Fallas includes a competition of street lights, and the setups can dazzling, especially in Ruzafa.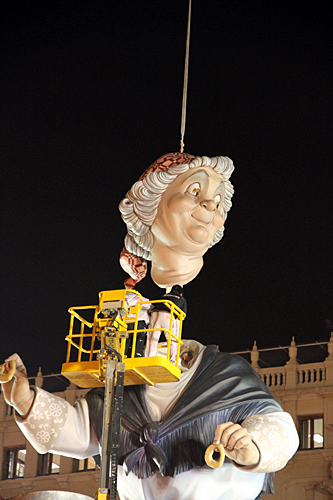 La Plantà – Very early in the morning of March 15th, the casales begin erecting their monuments. By the evening, there are over 500, grinding traffic to an absolute halt. The Fallas occupy a huge percentage of the city's intersections, plazas and alleys, and Valencia temporarily becomes an open air gallery.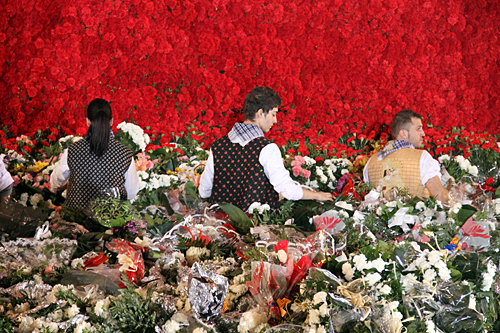 La Ofrenda – On March 17th, thousands of girls in traditional dress arrive in the Plaza de la Virgen, bearing flowers to adorn the dress of a massive wooden representation of Our Lady of the Forsaken.
Nit del Foc – On March 18th, the "Night of Fire" is a massive fireworks extravaganza which gets going late in the night, at 1:30am.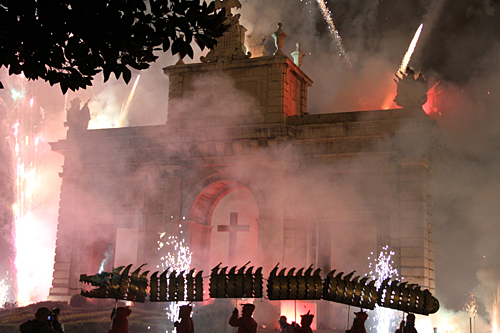 Cabalgata de Fuego – On March 19th, a small, lively parade of fire-spitting devils and demons starts out from Ruzafa and marches toward the town center, ending with fireworks at the Puerta del Mar.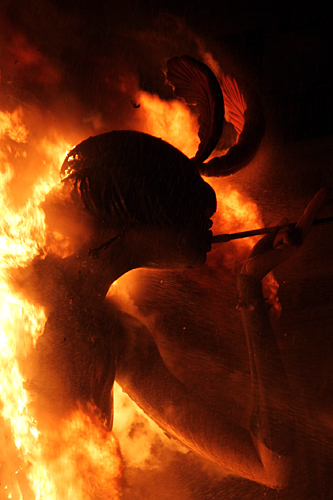 La Cremà – In the final act of Fallas, at midnight on March 19th, all of the Fallas monuments are burnt to the ground. We're talking hundreds, some as big as buildings. Valencia has to call in firefighters from around the world to assist, and the whole city feels as though it's gone up in flames. It's an unforgettable experience.