The Mascletà: A Most Valencian Invention
Who doesn't love fireworks? The color, the sound, the visual spectacle? Of course, we can all agree that they're wonderful. But, who still loves fireworks minus the color and the visual spectacle, leaving only the sound? Hmmm, not many of you have kept your hands up… just a bunch of maniacs wearing blue and white handkerchiefs. Let me guess: you're the Valencians.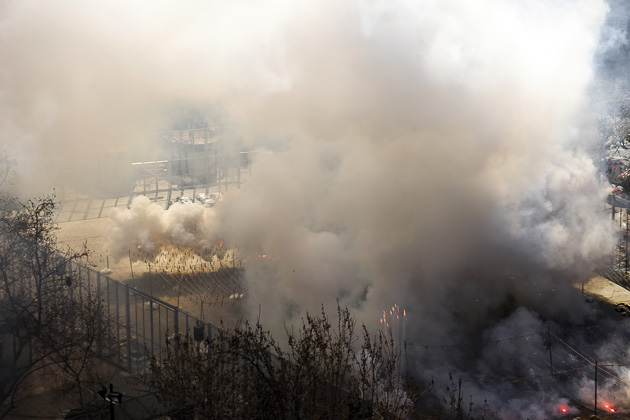 The mascletà is a major part of Fallas, rattling windows for five minutes every day in the town square. But it's also a part of life in Valencia, all year round. On holidays and public events: mascletà. Weddings and baptisms: mascletà. Neighborhood parties: mascletà. What the heck, it's a Tuesday: mascletà.
Mascletàs are best described as "noise fireworks." They come in all different variations, from beach mascletàs to street mascletàs, aerial mascletàs and color mascletàs. But I'll describe the standard version, which explode daily at 2pm from March 1st to the 19th, in the Plaza del Ayuntamiento.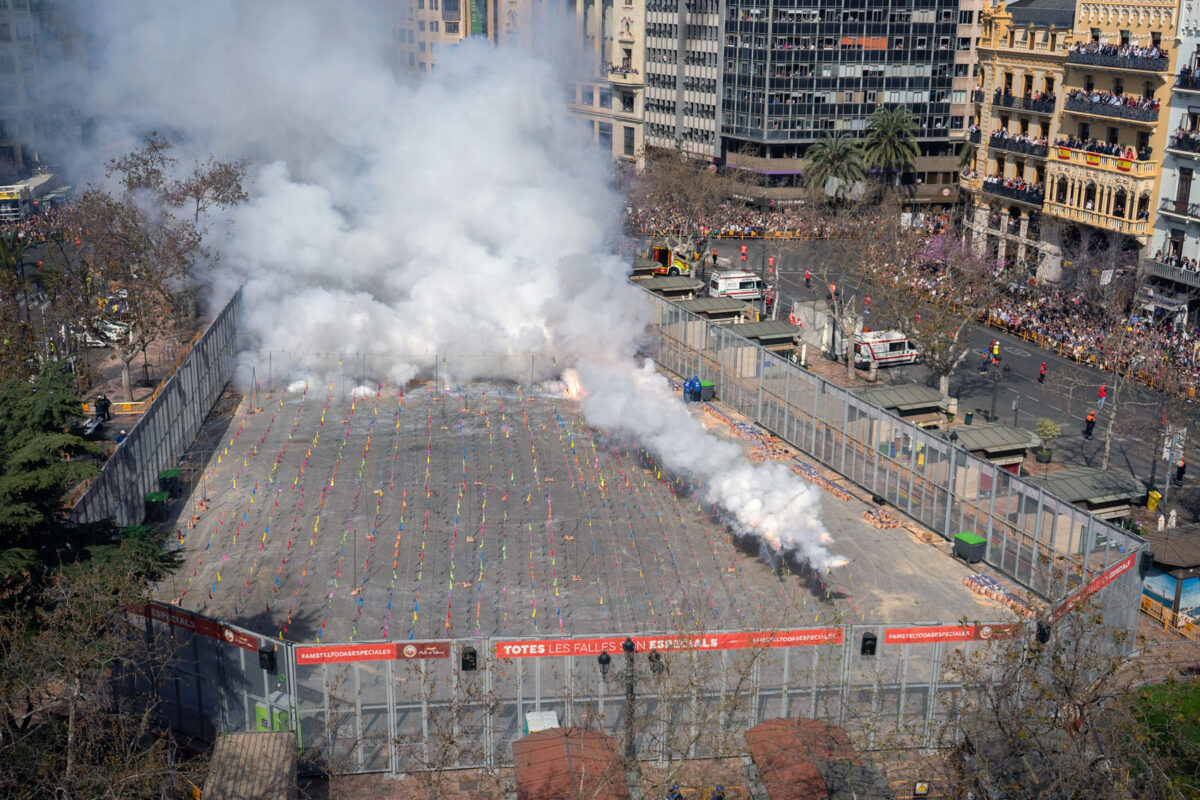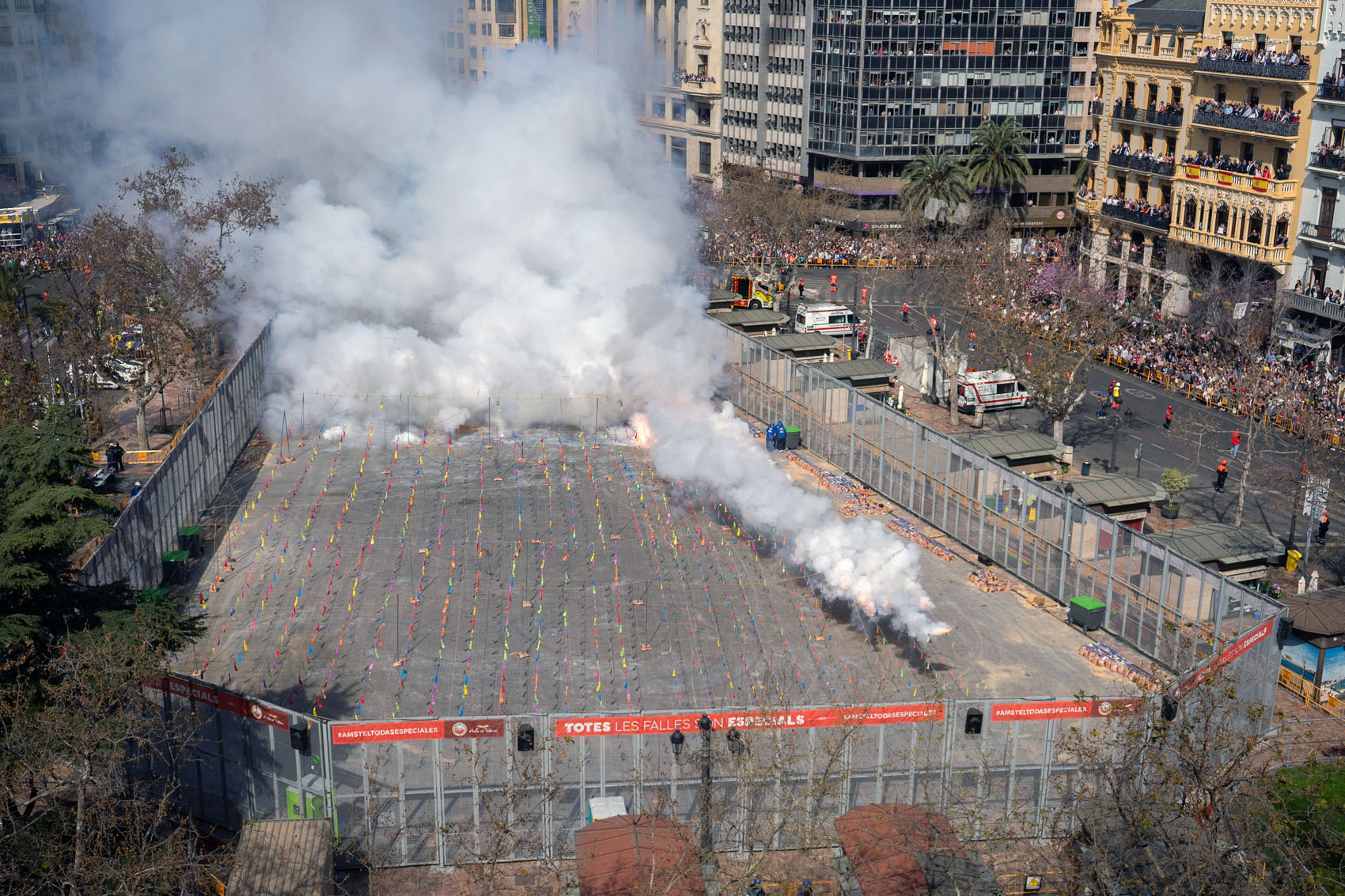 The mascletà's main components are noise, smoke and rhythm. A good one starts strong and builds steadily in intensity, obscuring the sky with a thick fog of smoke, and rhythms which alternate booms with high-pitched squeals or rat-a-tat explosions in the sky, until reaching an eardrum-crushing finale that literally shakes the streets. At this point, most of the crowd will be jumping up and down, cheering like madmen. Some people, however, will be shell-shocked and covering their ears in terror. Others will be watching the spectacle with their jaws agape, unable to believe what they're seeing.
Which brings us to a couple important lessons. Those of you covering your ears: WRONG. Rule #1 in a mascletà is to leave your ears open. It's tempting to do so, but do not wear earplugs. The sound waves rattling your brain need to be able to flow through your head — earplugs can even be dangerous. Those of you opening your mouths: RIGHT. Even if it's only because you're in shock, you're doing it correctly, for the same reason that you shouldn't block your ears: the sound waves need somewhere to go. Keep those ears and mouths open!
Although they're only celebrated here, it's not just Valencians who love mascletàs. Jürgen and I, for instance, are grand aficionados. It's the craziest sort of firework I've ever seen, and the thundering finales get my blood racing every single time. Over the years, we've attended well over 50, and don't plan on stopping anytime soon. I suppose that one day, when we're deaf old men fumbling with our hearing aides and yelling "WHAT! WHAT!" at each other, we might regret our mascletà addiction. But for now: more please!