Southeast of the historic center, Ruzafa has long been known as Valencia's multi-cultural mixing pot. And in recent years, it has indisputably become the city's hippest neighborhood, with an eclectic and ever-changing variety of popular clubs, retro bars, trendy restaurants, vintage shops and offbeat bookstores.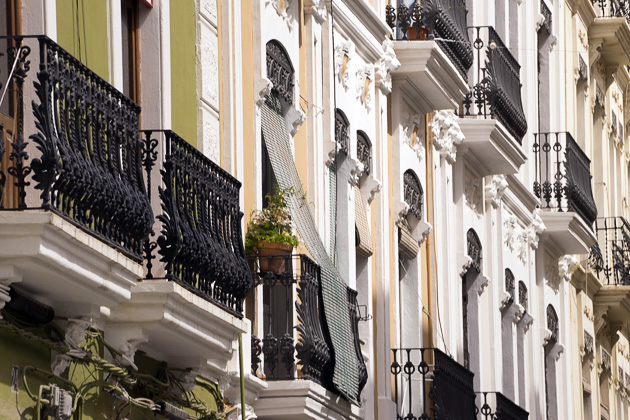 Years ago, when we were looking for apartments in Valencia, we asked a real estate agent about Ruzafa. This was an older, very proper Spanish lady, of a different generation. She said that Ruzafa was improving, but… and here, she paused, before dropping her voice to a whisper. "Pero… hay muchos negros y moros."
"Well that sounds terrific! Is it gay-friendly, too?"
(Ethics compelled us to stop using her agency, but we can't harbor any ill-will to this sweet little racist woman. She grew up in 1950's Spain, and feigning surprise at her backwards views would be disingenuous, at best. I'm sure that when I'm 70 years old, I'll be politically incorrect, too, scandalizing people by eating meat or throwing my cigarette butts into the street. "Now look here, youngster, in my day that was acceptable!")
We did end up living in Ruzafa for a year, and loved our time there. This neighborhood does have a lot of immigrants, and it is gay-friendly. There are also a lot of artists, students, professionals, and regular ole Spanish families. It's a healthy mix, and there's a great sense of community. Ruzafa feels distinct from the rest of Valencia. Indeed, it was a separate town for most of history, up until 1877, when it was incorporated into the capital.
The name Ruzafa is derived from the Arabic word for "garden." This is where the pleasure gardens of the Valencia's Moorish rulers were established in the 9th century. Over the centuries, Ruzafa developed into a bustling village where the primary business was processing timber sent from the interior, down the Turia River.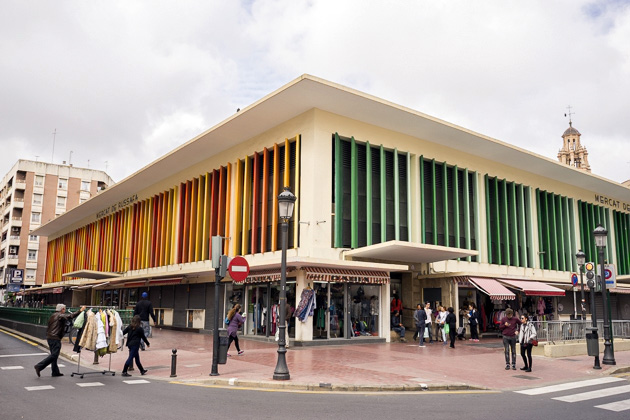 One of the neighborhood's main draws is its central market, the Mercado Ruzafa; smaller than the Mercado Central, but also cheaper. The building, while not classically beautiful, has a cool industrial feel to it, and it's in the heart of the neighborhood. So this is the perfect spot to start a tour of Ruzafa.
Without any big museums or attractions, Ruzafa doesn't have a lot of "typical" sights. But plodding through a museum would be contrary to the neighborhood's spirit — here, the streets are the exhibits. Walk up Literato Azorín to grab a drink and peruse the used books at Ubik Cafe (our #1 Favorite Valencian Bar). Then, turn up Sueca and Denia, and browse hipsteresque stores like Kowalski. Have lunch at a classic Spanish joint like Torres de Utiel, or treat yourself to something more modern at the fusion restaurant Canalla Bistro.
And don't miss the nightlife. Ruzafa is home to some of Valencia's favorite bars and clubs, as well as its best gay scene. This is the only neighborhood in the city where you might (and likely will) see a gorgeous drag queen walking the streets at night, passing out fliers for the club in which she'll soon be performing.
Ah, Ruzafa… we've chosen a different neighborhood in which to settle down, but we return often, whether to meet friends, to eat, or just to hang out and relax. For us, this is Valencia at its coolest, its most bohemian and forward-looking. Don't pass it up, and don't be surprised if, after visiting, you end up looking for an apartment, yourself.
Locations on our Map: Mercado Ruzafa | Ubik Cafe | Kowalski Belles Artes | Torres de Utiel | Canalla Bistro
–Book A Great Apartment In Valencia