With hundreds of stalls selling fruits, veggies and meat, Valencia's Mercado Central is among the largest fresh food markets in Europe. And although it has become one of the city's principal tourist attractions, it's remained popular among locals as well, many of whom do their everyday shopping here.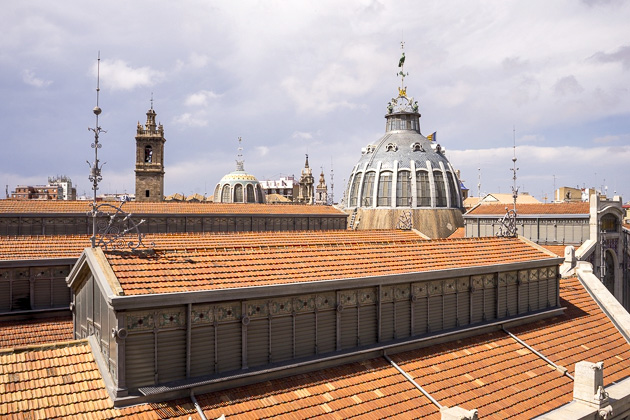 While climbing the stairs to the main entrance of the Mercado Central, it's nearly impossible not to stop and admire the facade. Ceramic tiles are set above the arches, framing a massive circular window which bears Valencia's coat of arms. And after entering the market, you're likely to stop once again. Brightly lit, deafening and chaotic, with thousands of veggies and fruits creating an intoxicating blend of smell and color, the first impression of Mercado Central is paralyzing. But don't stand still for too long, or an army of irritated old ladies will plow you down with push-carts employed as battering rams.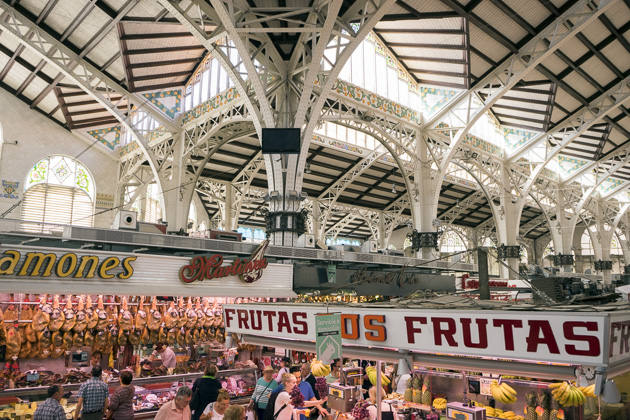 We love the Mercado Central, and do as much of our shopping here as possible. The prices are higher than what you'd find in regular supermarkets, but the experience makes up for it. There's just no comparison between grabbing a plastic bag of lettuce in Mercadona, versus having your Salad Buddy select an assortment from the leaves he cut this morning. Sometimes Salad Buddy will suggest a variety you've never heard of. Maybe he'll even throw in a couple tomatoes for free. It's just the kind of thing Salad Buddy does.
The market's focus is squarely on food, but there are other shops here as well. A stand selling beers from around the world. One focused on Latino products. Tea and coffee shops. Greek specialties. Souvenirs. There's even an entire bar… and it's a great one. If you can manage to find a seat, don't pass up a glass of wine and a plate of fried artichokes at the Central Bar.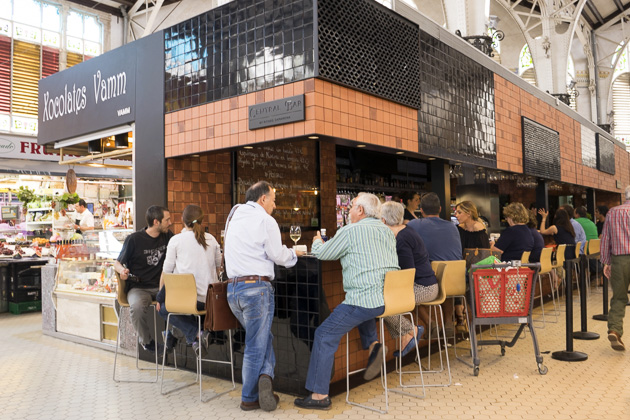 And don't forget to tour the fish section, which is in a separate wing of the market. Brought in fresh from the Mediterranean every morning, thousands of squids, fish, eels, shrimp and mollusks are laying on beds of ice, or still writhing about in pails of water. Along the sides of this wing, you'll also find the butchers who specialize in offal. Gruesome goodies like cow brains, intestines and hearts are on sale here, for those who can (ahem) stomach it.
To enjoy the Mercado Central at its best, make sure to arrive as early as possible. It's only open until 14:30, and the crowds can become ridiculous around noon, particularly on a Saturday. Shopping is a lot more fun in the morning, when it's only you and the cart-wielding grannies. But whether it's crowded or empty, and whether you're buying specific ingredients for an attempt at paella or just sampling strange new delicacies, you're almost certain to have a great time.
Mercado Central – Website
Central Bar – Website