Once upon a time, not actually all that long ago, Valencia's historic center was bordered to the north by the Turia River. Although it was normally a benevolent presence, the Turia was given to sporadic fits of rage. And after a deadly flood in 1957, Valencia decided to remove the threat once and for all.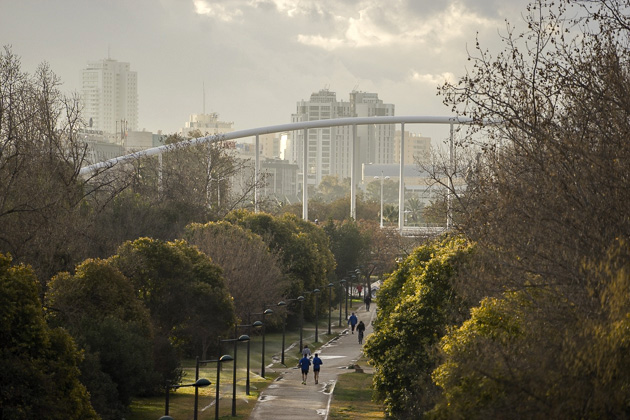 After a season of unusually heavy rains, the Turia overflowed its banks on the 13th and 14th of October, 1957, flooding the city. In some neighborhoods, the waters reached heights of over five meters (17 feet). At least 81 people died in the Gran Riada de Valencia, and thousands were displaced after losing their homes. It was an epic disaster, and called for an epic response.
So Valencia devised the "Plan Sur" to deal with the Turia's menace. The entire river would be diverted, its course to the Mediterranean re-routed through the fields south of the city. The government originally planned to convert the former riverbed into a highway, but citizens protested and formed a movement named "el riu és nostre i el volem verd": the river is ours and we want it green. It took awhile, but their wishes were eventually heard, and in 1986 the Turia Riverbed Park was officially inaugurated.
The park is seven kilometers (4.3 miles) in length, running from the BioParc in the west to the City of Arts and Sciences in the east. This is Spain's largest urban park, as well as its most popular, welcoming over seven million visitors a year. Over twenty bridges span its width; a few of them are new, but others were built out of stone, many centuries ago.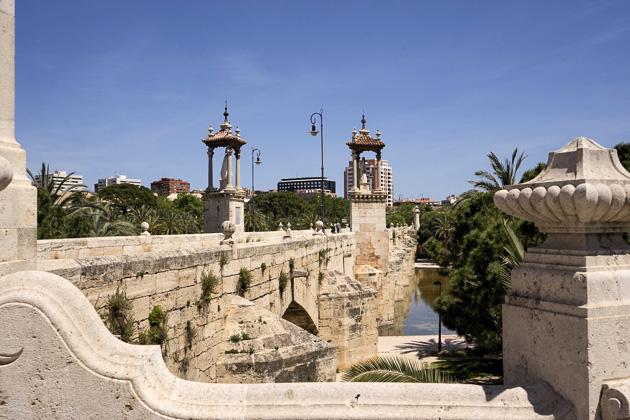 Valencians were right to fight for this green space; the Turia Park is the city's most unique asset, and has improved the quality of life here in untold ways. We're in the park almost every single day — sometimes just passing through, but also to relax, to meet friends for a picnic, to go to a festival, or to visit one of its many attractions. There's the City of Arts and Sciences, of course, but also the Gulliver Park, the Palau de la Música, and a variety of sports installations: baseball, track and field, rugby, soccer and even American football.
And there are also a lot of joggers in the Turia. I mean, an insane number of joggers, at all times. This long, flat, central city park is a runner's dream, with constantly changing landscapes, plenty of paths, and no traffic to worry about. At times, there are so many joggers, it seems sinister — as though they're part of some weird cult, or jog-zombies who will bite you if you're careless, and then a couple hours later you'll be jogging alongside them, sweating and dead-eyed, hunting prey. But seriously, jogging is contagious: when you see so many people exercising, you want to exercise, too. The park's very existence has probably extended the lifespan of the average Valencian. It's definitely made them fitter.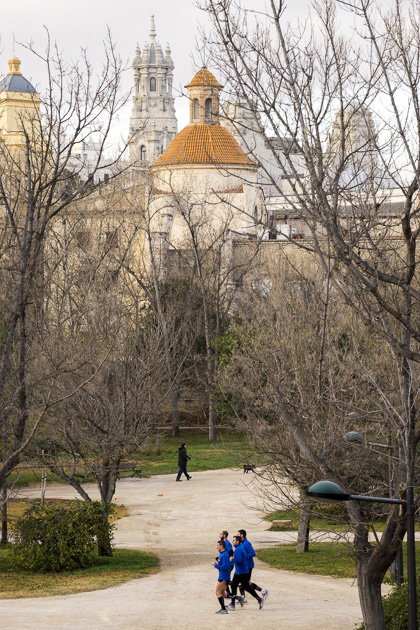 We use the park for jogging, as well, but mostly I consider the Turia to be a bicycle highway. You simply coast down into the park, pedal along one of the dedicated bike lanes, and get off at the exit closest to your destination. It's insanely practical.
The Turia Park isn't something you have to make a special effort to visit — you're going to find yourself here multiple times on any trip to Valencia. But it is worth dedicating an afternoon to an extended stroll through the park. Not only is the landscaping beautifully done, with hundreds of different kinds of trees and plants, but there's always something going on here; always something new to see. Even after hundreds of visits, I never tire of returning to the Turia… in fact, I might head over there right now.
–Download our Valencia Travel Book Here