From train and plane, to bus and bike, there are a number of ways to get to Valencia and travel around once there. The following is a quick rundown of what you need to know about transportation in Spain's third-biggest city.
Getting To Valencia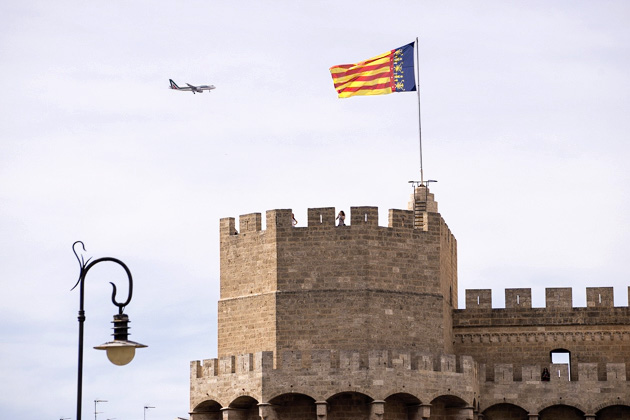 By Plane
Valencia's airport is in Manises, about ten kilometers outside the city center. It's connected by metro, but if you have a lot of luggage, a taxi isn't too expensive, at about €20 into the city center. For a city of its size, Valencia's airport is much smaller than you might expect. This has positives and negatives. It's manageable and never crowded, so checking in takes almost no time. But there aren't all that many connections; almost every flight we've ever taken out of Valencia has had at least one layover, in Madrid, Barcelona, or even Mallorca.
Manises isn't even the biggest airport within the Comunidad Valenciana, an honor which goes to Alicante, about an hour to the south. The lack of a real international airport is perhaps the main obstacle preventing Valencia from becoming a major tourism destination.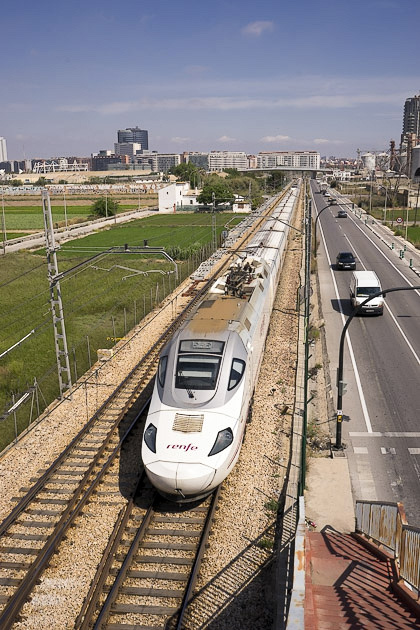 By High-Speed Train
When people think of super-advanced train systems, Spain doesn't usually come to mind. But the Alta Velolicdad Española, or AVE, is the second largest high-speed rail network in the world after China's. And it's growing. In 2010, Valencia was connected with Madrid, reducing the commute time between the two cities to a mere 90 minutes. The AVE reaches speeds of over 300 kilometers per hour (about 200 mph), and with ticket prices as low as €20 when booked in advance, it doesn't cost much more than a bus.
With the AVE, Madrid's airport becomes a viable option when planning a trip to Valencia. There are a lot more flights to and from the capital, and it's now just 90 minutes away.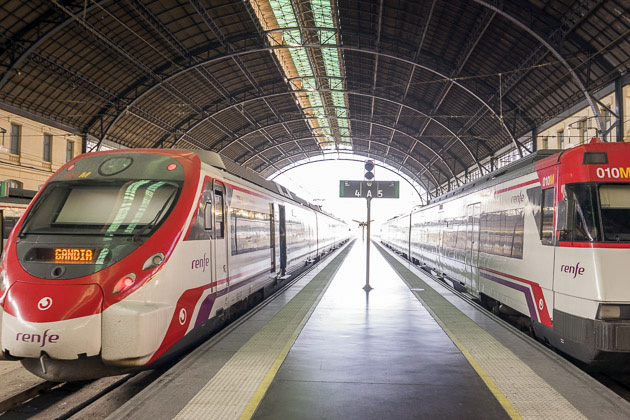 By Regular Train
If you're coming from somewhere else within Spain, the regular train is another option for traveling to Valencia, although you shouldn't expect it to be either super-cheap or super-fast. But we've learned that train is the best way to explore some of the beautiful towns in the Valencian Community. With the provincial network offered by Renfe Cercanías, you can easily get to places like Xàtiva, Castellón, Sagunto and Utiel… as well as many others.
By Cruise Ship
In recent years, Valencia has become a major destination for Mediterranean cruises. During the summer, the old town can become tremendously crowded with groups of cruisers marching down the streets in pursuit of their umbrella-waving leaders. Of course, we can't recommend this as a way to see Valencia; you don't get to spend nearly enough time in the city, and only are given the slightest taste of what it has to offer.
Getting Around Valencia
By Metro
With only five lines, Valencia doesn't have the world's most extensive metro system, but it feels appropriate for the city's size. Unless we're going to the airport, we don't use the underground too often, preferring either bikes or the bus. The cost of the metro is modest, and depends on which of the four zones you're traveling between. All the stops generally considered to be within the city of Valencia are Zone A.
There's still a dark shadow hovering over Valencia's metro system. In 2006, two cars derailed between the Jesus and Plaza de España stations. 43 people lost their lives in the accident, which was the worst metro disaster in Spanish history.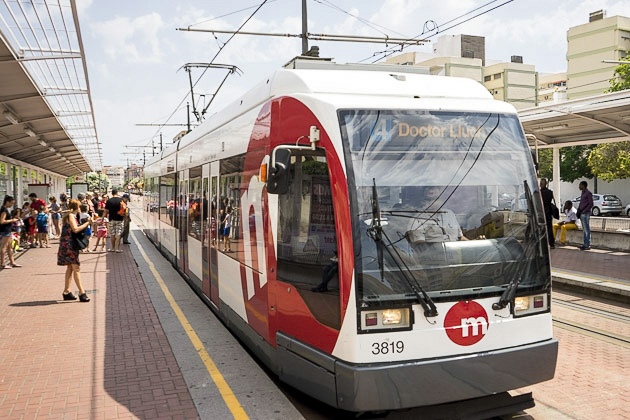 By Tram
An extension of the underground metro, Valencia's trams are limited to the neighborhoods north of the Turia riverbed. Running up and down the length of the extensive campus of the University of Valencia, the trams are largely used by students, but also provide a quick way to get to the beach. When Line 4 opened for service in 1994, it was the first modern tram in Spain. Line 6 debuted in 2007, finally connecting the city's northern neighborhoods to the metro.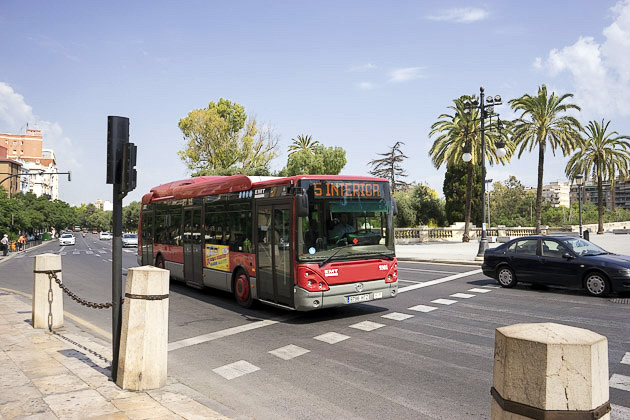 By Bus
Valencia's bus system is called the EMT (Empresa Municipal de Transportes), and the network is extensive. In the rare instances we're too far away to bike, or when it's raining, we'll load up the EMT website and figure out how to reach our destination on the bus. It seems like there's always a direct line, regardless where we are or where we're going, and the ticket costs just €1.50.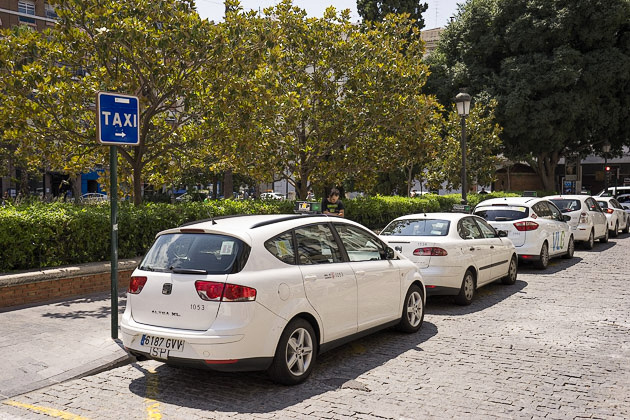 By Taxi
Taxis are plentiful in Valencia, and are usually trustworthy. In our years of living here, we've had only one guy obviously try and rip us off. Uber is currently illegal in Spain, but Valencia has introduced a similar app called MyTaxi, which works with licensed taxi drivers. However, it's almost always more expensive to use the app than to simply flag down a taxi.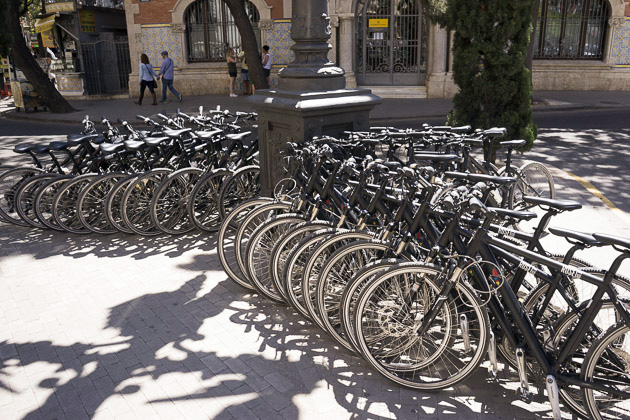 By Bike
Although its flat landscape and warm climate are ideal for bikes, Valencia took awhile before coming around to the idea of being a cycling-friendly city. But now, it's making up for lost time. They've been installing a large number of dedicated bike lines separate from automotive traffic. There are also "Ciclo-Calles," which are low-velocity roads that cut through the center of town, specifically signaled for bikes. And, of course, there's the Turia riverbed, which acts as a sort of Cycling Superhighway, with plenty of bike lanes and "exit ramps" into the city.
So that's the good news. The bad news is that biking is still not as safe as it should be. Spanish motorists, taxis and buses can be aggressive towards cyclists, and seem to delight in terrifying them with close calls. Also, pedestrians haven't yet learned to respect bike lanes, and the cops who turn a blind eye toward racing motorcycles and double-parked cars will target bikers for the most minor of infractions.
But if you stay off the busiest roads and make sure to respect the traffic laws, biking is a great way to get around Valencia. For tourists, there are any number of bike rental shops in the city center, offering good-quality bikes for reasonable rates. There's also ValenBisi: a bike-sharing program that lets you pick up and drop off bikes at over a hundred spots spread across the city. This program works well, and tourists can buy a week-long ValenBisi pass at most of the stations.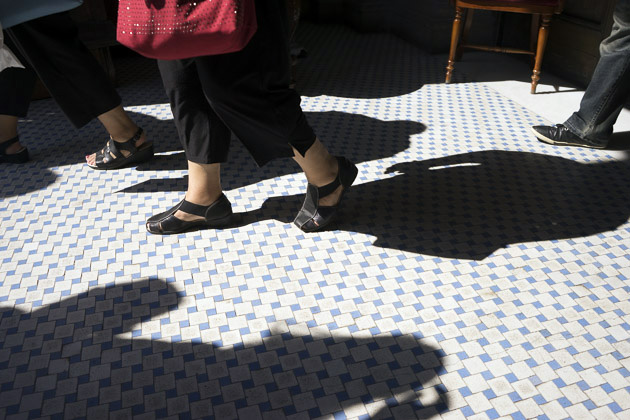 By Foot
Bikes are great, but our favorite way of getting around Valencia will always be by hoofing it. This is the perfect city for walking. The sun is out, it's warm enough for t-shirts and shorts, there's a cool breeze, the scent of orange blossoms impregnates the air, and it usually doesn't matter where you're off to: it's almost certainly near enough to walk.
But be warned. When walking, it's best to double the amount of time you think you'll need, because you're going to encounter a thousand distractions along the way. Shops and cafes, plazas and museums, new street art that wasn't there yesterday, and perhaps a friend or two walking the other way; Valencia is small enough that you'll run into the same people constantly. Actually, disregard the rest of this post. Walking is the only way to really see Valencia.
By Segway
I'm loathe to talk about it, but fine: it's an option which exists, and people do book Segway tours of Valencia. A lot of people. I suppose that if you've been dying to ride a Segway, Valencia's a good city in which to do so; it's flat and relatively safe, since most tours go through the Turia riverbed.
But there's something you should know. If you join one of these giant Segway tours… one of these twenty-person, wobbling-back-and-forth, sidewalk-clogging mega-groups… I will be your enemy. Forever.