The Monuments of Fallas 2015: #1 – #6
During Fallas, approximately 600 monuments are constructed around the city, but the best are in a category called the Sección Especial. In 2015, we visited all twelve monuments in the top section. Considering how much time and effort the artists put into them, it seemed like the least we could do. Here are the top six, in order of how they finished in the official competition.
1. Plaza del Pilar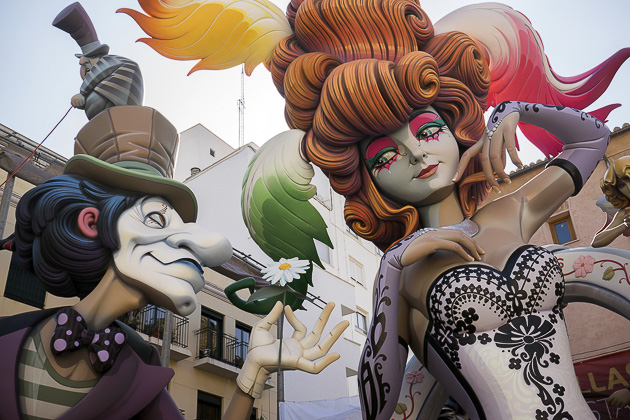 Pantomima
Plaza del Pilar's casal celebrated their 150th anniversary in style, by winning Fallas 2015 with a monument called Pantomima. The central figures were of a mime and the masked woman he's wooing, and the theme was a "pantomime" of political life. There was a samba line of Spanish corruption; a representation of the fantasy-land promises of Electoral Campaigns, complete with unicorns and rainbows; Obama accepting his Nobel Prize with one hand, while revealing the arsenal under his vest with the other; the Bar for Former Dictators, based in hell of course, with Castro waiting to welcome you at the gates… and so much more. This was the kind of monument you could have spent an hour exploring. A deserved victory. [More Pics]
2. L'Antiga de Campanar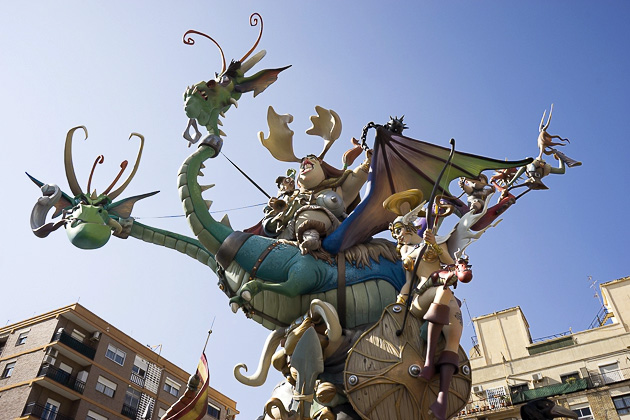 Barbaritats
During our first three Fallas, from 2008 to 2010, L'Antiga was one of the least exciting commissions in the sección especial. But something changed during our absence, because their 2015 monument was among the best. Barbarians storming a medieval stronghold provided a perfect theme, with plenty of opportunity for hilarious ninots and ironic political commentary. Witty, beautiful and impressive… for us, L'Antiga was the year's biggest surprise. The casal considered the second-place finish to be a major victory. [More Pics]
3. Convento de Jerusalén-Matemático Marzal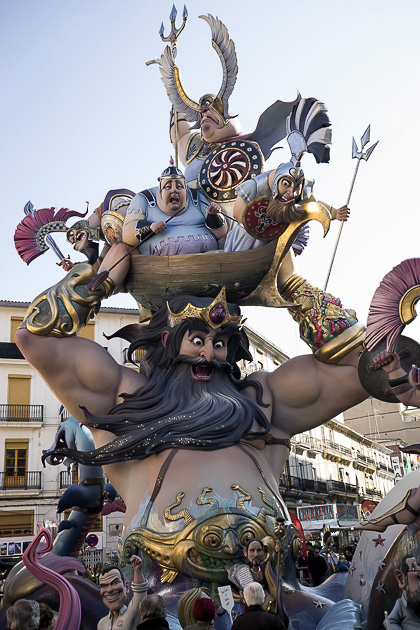 El ocaso de los dioses (The Decline of the Gods)
At €230,000, Convento Jerusalén had 2015's most expensive monument, so the third-place finish must have been a bitter disappointment. The central figure is Poseidon emerging from the sea, with a boat of fishermen hoisted above his head, whom he intends on smashing onto the water. There were a lot of political ninots, our favorite of which alluded to the upcoming Spanish elections: while the traditional political parties row furiously away, Pablo Iglesias of Spain's upstart left-wing party Podemos acts as Moses and parts the sea. [More Pics]
4. Exposició-Micer Mascó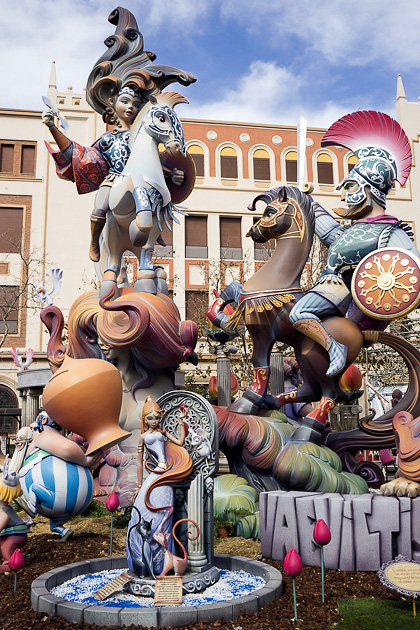 VaeVictis
Exposición's 2015 monument, VaeVictus, recreated scenes of ancient Rome, starring Spain's politicians and celebrities in the roles of emperors and gladiators. The main figure, of two warriors on horseback, was excellent, but the strength of Exposición's falla was in the hilarious ninots which filled out the monument. Rita Barberá as Obelix was especially good. [More Pics]
5. Mercado Central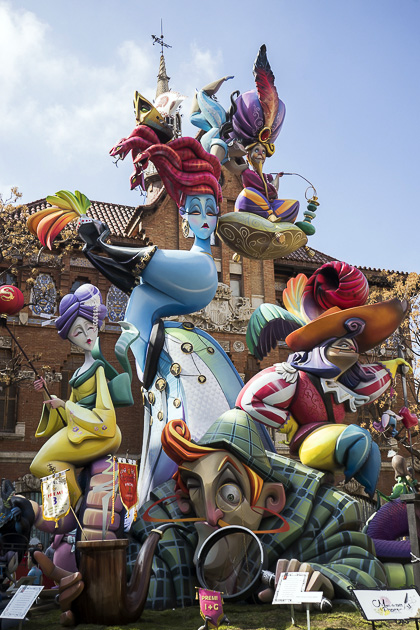 Mons de tinta i paper (Worlds of Ink and Paper)
This year, Mercado Central's monument looked to the world of literature for inspiration, bringing characters like Sherlock Holmes and Medusa to life. We most liked the wall of letters, honoring Valencian and Spanish authors throughout history. This monument was good enough for fifth place, which was Mercado Central's best finish in a long time. [More Pics]
6. Almirante Cadarso-Conde Altea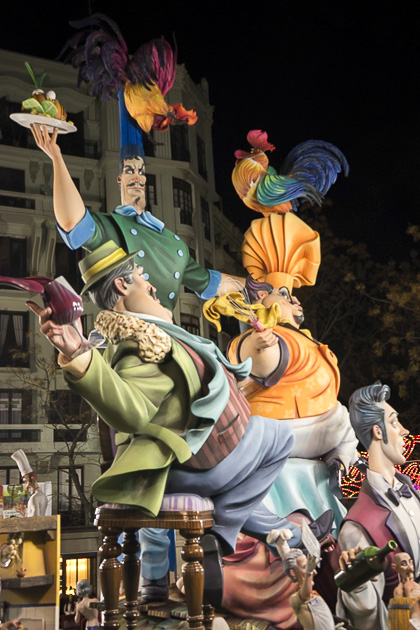 Bon Appetit
A distracted sommelier pouring wine onto the ground, a slovenly patron falling off his chair, an obese cook wielding an whisk, a horrified woman with a lobster climbing her breasts, and a haughty waiter presenting an expensive plate were the principal figures in this monument dedicated to cuisine. As always, there were some great political jibes, and some hilariously perverted ninots. [More Pics]
–Book your apartment for the next Fallas now!!!