The Albufera and El Palmar
The natural lagoon of the Albufera extends to the south of Valencia, separated from the Mediterranean Sea by a narrow strip of sand. It's the largest natural lake in Spain, and supports a diverse ecosystem of birds, fish and plant life. With its abundance of rice fields, paella restaurants, and traditional houses called barracas, the Albufera has become an important piece of Valencia's cultural identity.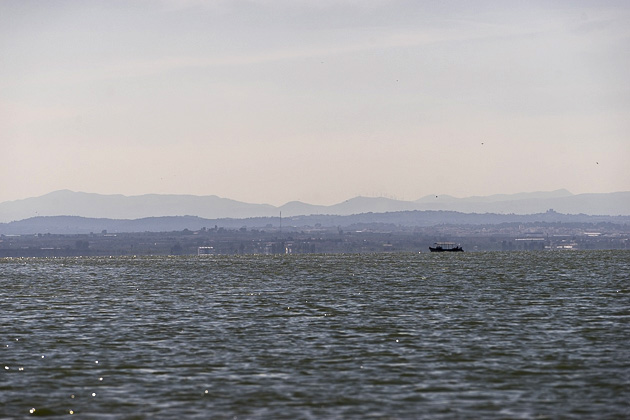 The Albufera's name comes from the Arabic expression "al-buhayra," meaning "little sea." This is a shallow lake, never reaching more than two meters in depth, but at 52,200 acres it's quite expansive. And a couple generations ago, it was even bigger. In fact, the Albufera is currently less than half of its previous size, having lost much of its water to irrigation. Today, the lake is protected within the bounds of a natural park, and although it still feeds the neighboring rice fields, irrigation is done in a sustainable manner.
The best way to visit the Albufera involves a trip to El Palmar, a village on the lake's southeastern border. El Palmar is known primarily for its restaurants — one resident bragged to us that it has more restaurants per square feet than any town in the world. I'm not sure if that's true, but I wouldn't be surprised; seemingly every building in town houses some sort of eating establishment. And they're all serving paella.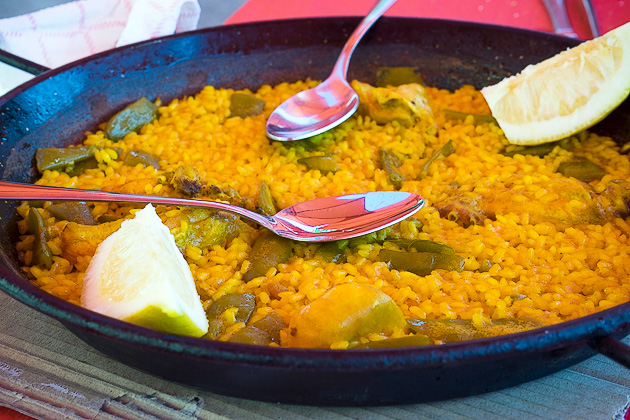 Try to arrive in El Palmar shortly before the traditional 2pm mealtime. You won't need much time to explore the town… maybe a half-hour to check out the main square, and to take a stroll along the canal. For lunch, any restaurant will do; we've never had a bad meal here. We like the menu at Restaurante Palmar, and can also recommend L'Illa and Arrocería Maribel. And make sure to take your time; order a lot of appetizers, get a bottle of wine and dessert, and linger over your coffee. Because the later you finish lunch, the better. As the sun begins to sink in the sky, the Albufera becomes more and more beautiful.
Once you're ready for your excursion on the lake, you won't have to make any special effort to find a boat — on the contrary, you'll have to fight off advances from multiple operators. As is the case with choosing a restaurant, it doesn't matter which boat you end up hiring. Prices are standard, and the excursions are all the same; about 45 minutes long, with a guide to explain the lake's history and point out some of the animals who live here. Finding a English-speaking guide might be a challenge, though.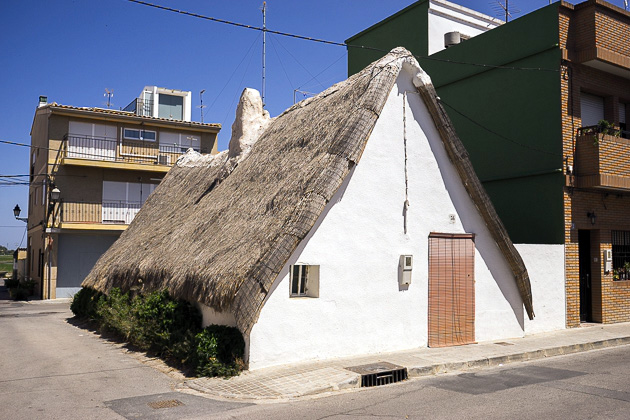 We love these boat trips, especially in the late afternoon. Bordered by reeds and populated by cranes, ducks and cormorants, the lake is lovely, and I always fall into a sort of trance while out on its waters. This is the opposite of a high-adrenaline activity; for me, the Albufera's defining characteristic is its tranquility.
You can bike to El Palmar from Valencia, although at twenty kilometers, it's too far when plans include wine and paella. Luckily, city bus #25 serves a direct connection. This is the same bus which will take you to Valencia's southern beaches.
Locations on our Map: El Palmar | Departure Point for Bus #25