A warm summer day coming to an end, a cool breeze lifting off the Mediterranean, a glass of cava sparkling in your hand, the water skidding by underneath, the wind rustling the sails up above… and on the horizon, past the beach, the sun sinking behind a set of colored clouds. There aren't many experiences more enjoyable than a sunset tour on a catamaran.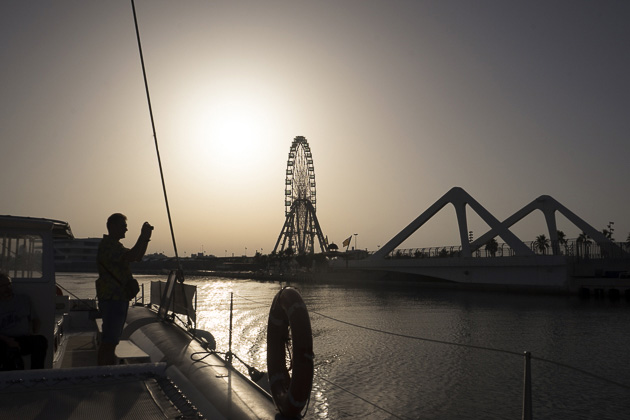 The tour offered by Mundo Marino has long been on on our radar. We've done this tour a number of times; when friends are visiting, for example, or when we have a special occasion to celebrate. Something like a birthday, or buying an apartment.
The trip lasts for about an hour, and the price includes a glass of cava to enjoy once you're out on the open water. If you can, book on a Monday or Tuesday evening, in order to avoid crowds… it's much nicer when the boat is relatively empty. But even when there are a lot of other passengers, the catamaran is large, and it's easy to spread out and find a place for yourselves.
Jürgen and I can't recommend this sunset tour enough. Until we're able to buy a boat for ourselves, this will be our favorite way to see Valencia from the sea.
Location on our Map: Office and Departure
Mundo Marino – Website
(I should make it clear that we're not being compensated at all for promoting this tour; we just love the experience, and think you will too!)