Burjassot is just to the north of Valencia, close enough to be connected via tram. The town's defining symbol is its Patio of Silos, where Valencia's grain was stored for centuries, and which was later used as a refuge during the Spanish Civil War. We showed up for a tour, shortly after the historic silos had been opened to the public for the first time.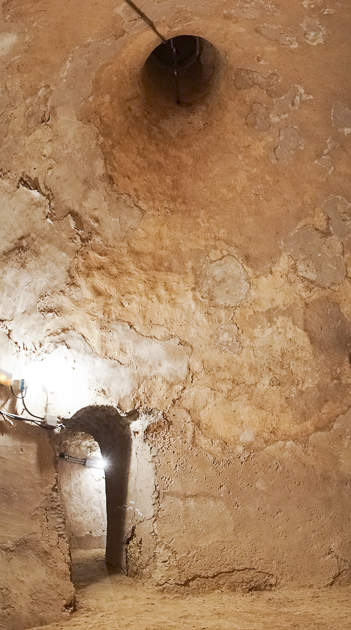 In 16th-century Valencia, grain storage was a problem. The province didn't have enough of its own, and imports from other Iberian regions were uncertain, due to poor harvests and peninsula-wide shortages. The best option was to import grain from Sicily over the Mediterranean Sea, but this made sense only if it could be done in great quantities, meaning Valencia needed a storage solution.
So the first silos of Burjassot were authorized. This outlying town was chosen because of its elevated position and proximity to the capital. Three underground silos were initially built, and this would expand to 47 over the course of the centuries. Soil was dug out of the ground in the shape of an enormous vase, and then its walls were fortified. These underground containers provided perfect conditions in which to store grain, and the silos remained in use until the beginning of the 20th century.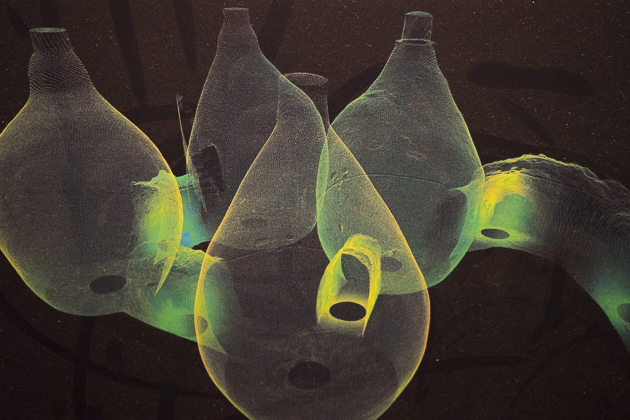 From above ground, the only visible aspect of the silos is their heavy concrete caps, spaced out across a large patio. The silos themselves have been sealed off since the early 20th century, but were only opened to the public in 2015. A reader tipped us off to the opportunity, and we didn't hesitate to hop on the tram to Burjassot.
During the Civil War, after the silos had been retired from grain storage, tunnels were carved, connecting them to one another. The idea was to provide a refuge in case of bombardment, and to give Republicans a secret place to stockpile their weapons. The tour we joined took us through the tunnels, and into six of the ancient silos.
From the patio, it's impossible to guess at the size of the silos, but they're surprisingly large. Inside, we felt like flies trapped in a vase, and I found myself amazed by the effort and ingenuity our ancestors had to employ for something as simple as "storing grain."
After finishing the tour, we spent some additional time in Burjassot, which turned out to be a charming place. The main pedestrian street of Jorge Juan is attractive; from the Patio de los Silos, it ambles slightly downhill until reaching the Plaza San Juan de Ribera, where there's an old castle currently in use as a school.
Location on our Map: Patio de los Silos
Burjassot Ayuntamiento – Website