The Valencian History Museum
Before cobbling together our concise history of the city, we decided to refresh our knowledge at the Valencian History Museum. Housed inside an old cistern, this museum takes visitors on a comprehensive tour from the days of the Romans to Francisco Franco.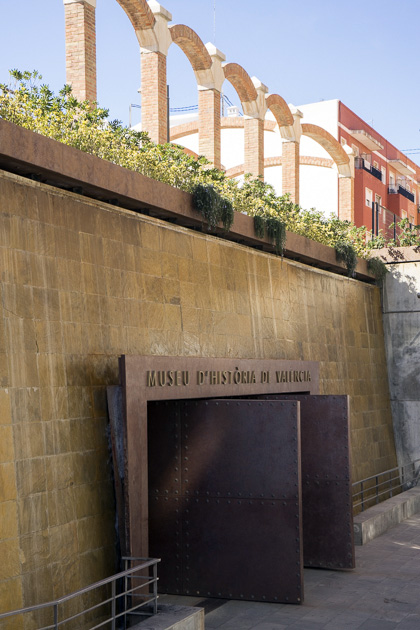 The Museu d'Història de València is located near the Parque de Cabecera, on the western edge of the city. Apparently, that's far enough away to dissuade most tourists; every time we've visited, the museum has been deserted. Unfortunate, since it's really well-done, packed with fascinating information and artifacts, and presented in a thoroughly logical manner. And it's worth visiting just for the chance to explore the 19th-century brick cistern in which it's set.
Visitors to the museum weave through the cistern's columns along a counter-clockwise path that starts in 138 BC with the arrival of the Romans, and ends in 1975 with the death of Francisco Franco. Along the way, you'll meet the Visigoths who took over from the Romans, and the Arabs who ruled the city for centuries. You'll see ancient artifacts found underground, read stories of Valencia's historical characters like El Cid and San Vicente Ferrer, and learn about the many wars which shaped the city's destiny.
The information posted at the displays in the museum is only in Valencian and Spanish, but you can ask for English-language guidebooks at the front desk. Although many of the multimedia displays are in need of repair, the exhibits themselves are nicely done. History buffs will be in heaven, but their non-history-loving partners will have to steel themselves — the museum is deceptively large. Those who want to read every piece of information will need hours.
Museu d'Història de València – Website
–Travel Insurance For Your Trip To Valencia