Going to the Movies in Valencia
Whether you're hoping to catch the newest summer blockbuster or an award-winning indie flick, Valencia has you covered. We're big fans of cinema, and these are the places we tend to go for a night at the movies.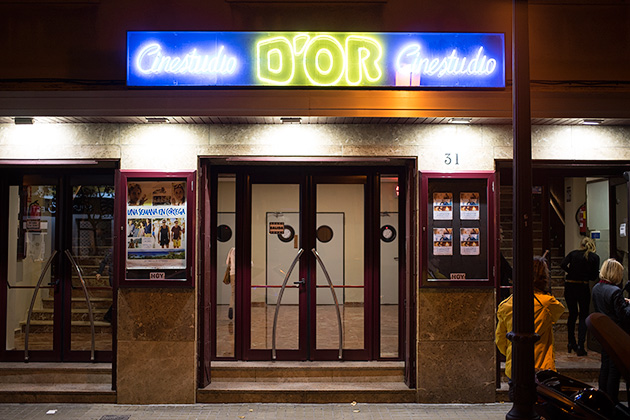 Spain often insists on dubbing films into Spanish. It's generally well-done, with voices that are synced almost seamlessly with the on-screen action, but if you want to see a film in its original version, your options in Valencia are largely limited to two places.
Yelmo Cines in the Mercado de Campanar, near the Nuevo Centro, is probably the theater which we visit most often. This is a modern cineplex with a ton of screens, and shows both dubbed and VOS (versión original subtitulada) films, along with 3D and digital. The biggest blockbusters will usually be showing in a variety of formats, and there are constant promotions to make the already-reasonable prices even cheaper.
We visit Cines Babel almost as frequently as Yelmo. This is more an art-house cinema, which shows mostly festival-type films in their original versions. The lineup at Babel is international; on any given week, there will usually be a few from around Europe, some low-budget American flicks, and a couple from Asia or Africa.
If you don't choose Yelmo or Babel, you're probably looking at a noche de cinema española. For atmosphere, our favorite cinema in all Valencia is the Cine Studio d'Or, in Ruzafa. This place is straight out of the 1970s, with a single screen at the end of a long hall. As opposed to most theaters, the hall inclines upwards, so that the screen is more elevated than the seats. The card is changed every week, with two second-run films, and on Tuesday nights, one cheap ticket will allow you to see them both as a double-feature.
Other options are ABC Park and Cines Lys, both in the middle of the city, close to the Plaza de Ayuntamiento, and Ocine in the Aqua shopping mall, near the Ciudad de Artes y Ciencias. Of these, the Ocine is probably the most modern and comfortable, but the other two are more convenient if you're already in the city center.
During the summer, there are open-air movies at a few places throughout Valencia. For a couple weeks in July, La Nau screens an eclectic cycle of films (2015's selections included Fargo, the 1972 classic Sleuth, and Alfred Hitchcock's Strangers on a Train). The city's culture commission also runs an open-air cinema festival in the Turia Riverbed Park, in August. And occasionally, you can catch a silent movie accompanied with a live orchestra in the Parque del Hospital.
Finally, we can't talk about cinema in Valencia without mentioning Cinema Jove, the International Film Festival held every year in June. As the name suggests, this festival concentrates on movies by young, up-and-coming directors. Cinema Jove is no Cannes or San Sebastian, but with 30 years of history, it's well-regarded in the industry. We don't mind the low-profile, because it means tickets are easy to come by, and there's always something interesting to see.
Locations on our Map: Yelmo Cines | Cines Babel | Cine Studio d'Or
Cinema Jove – Website