Classic Valencian Restaurants
Whether you're in the mood for tapas, bocadillos, or a full, multi-course menu, there are a million restaurants to choose from in Valencia. And if your time in the city is short, it's better not to run the risk of picking the wrong place. Don't trust TripAdvisor, which is appallingly off-the-mark in this city; for a classic Valencian meal, any of these should fit the bill.
Disclaimer! We're not saying that the restaurants which follow are necessarily the best in the city. For this list, we only wanted to consider bonafide Valencian institutions: places which have been around for years, and will be around for years to come. We're sure that there are plenty of others which are just as great, and many which we might not yet know about… but these are our favorites.
El Trovador
If you enter El Trovador for the 2pm comida, the first thing you're likely to notice is the noise. The only way to describe this restaurant is "raucous." But you're unlikely to find a better value menú del día anywhere in the city. Filled with rowdy construction workers shoveling down plates of paella, and suited waiters moving at the speed of light, this place feels out-of-time. We've never been disappointed with our food, and eating here is about as Spanish an experience as you can hope for. [Location | Facebook]
La Uteilana
One of the first restaurants we visited in Valencia, La Utielana was recommended by a friend when we asked for something "classic." Since then, we've returned dozens of times. This is the kind of food which you'd expect from a typical Valencian grandma: hearty, heavy, and served in a classic salon covered in blue tiles. La Utielana has always been run by the same family… originally from Utiel, naturally. [Location | Facebook]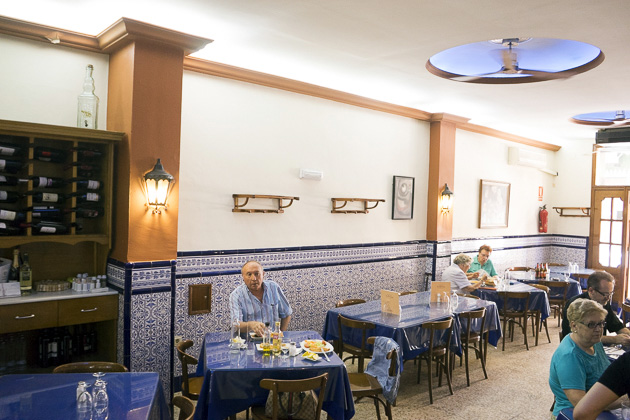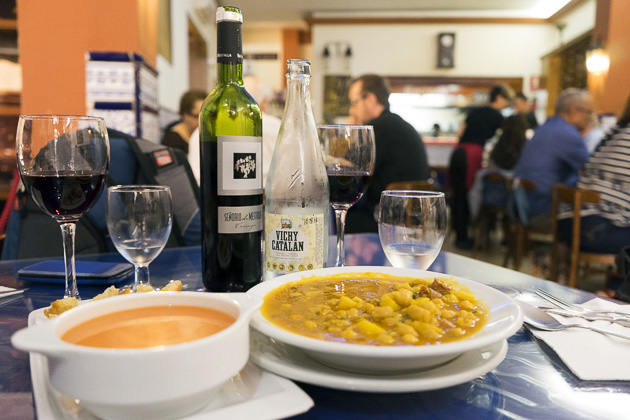 La Ríua
This restaurant has been an institution since opening on Calle Mar in 1978. Ríua is the Valencian word for "flood," referencing the 1957 disaster when the Turia overflowed, killing 48 people and covering the city with up to five meters of water. Kind of a macabre inspiration for a restaurant… but if I were to drown in a flood, I hope it would be a flood of La Ríua's famous paella. Their version of the classic dish is saltier and much oilier than I'm used to, but still delicious. This restaurant is as popular with tourists as it is with locals, and reservations are highly recommended. [Location | Website]
La Pergola
Serving up some of the best bocadillos you're likely to find anywhere in Valencia, La Pergola is a popular spot for a quick and delicious lunch in the sun. Found at the top of the Paseo Alameda, not far from the Viveros Gardens, this restaurant's pièce de résistance is known as the Super Bon-Bon. Lomo, bacon, french fries, lettuce and mayo piled high in a perfectly-toasted piece of bread, it's a thing of beauty. For reasons which baffle the mind, La Pergola isn't open on Saturday or Sunday, so head over on a weekday if you want to try it out. [Location | Facebook]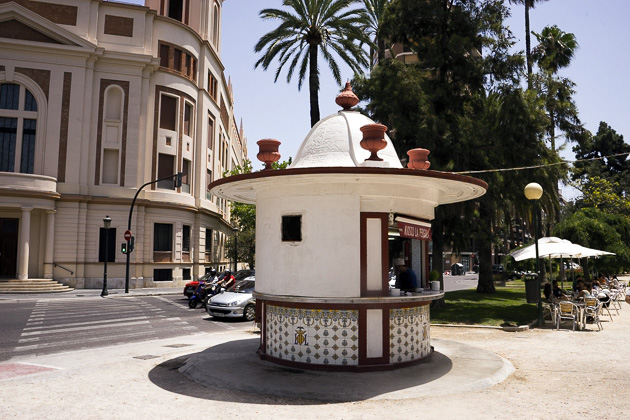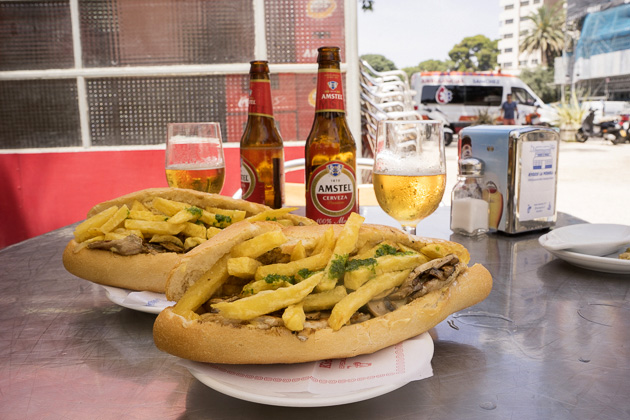 La Pascuala
"La Pascuala" is Spanish for "Ridiculously Huge Bocadillos." At least, that's what it means in our vocabulary. But it's not all about size at this popular joint on Calle Eugenia Viñes in Cabanyal. Sure, the bocadillos are huge (ridiculously so) but they're also delicious. The best thing about La Pascuala, though, might be its atmosphere. At lunch time, this place is off-the-wall; loud, crowded and crazy. You might have to wait for a table, but you'll be glad you did. Not to be missed. [Location | Facebook]
Casa Montaña
Cabanyal's Casa Montaña must be one of the oldest restaurants in the city. Since 1836, it's been dishing out tapas to the hungry public… or at least to those lucky few who can manage to find a seat. You can either reserve a table in the dining room, or try to grab a stool in the boisterous bar area. Both have points to recommend them; the bar is more informal and fun, but in the dining room you'll be able to properly appreciate the quality of the food. Everything we've had here has been exquisite, especially the oil-soaked anchovies. [Location | Website]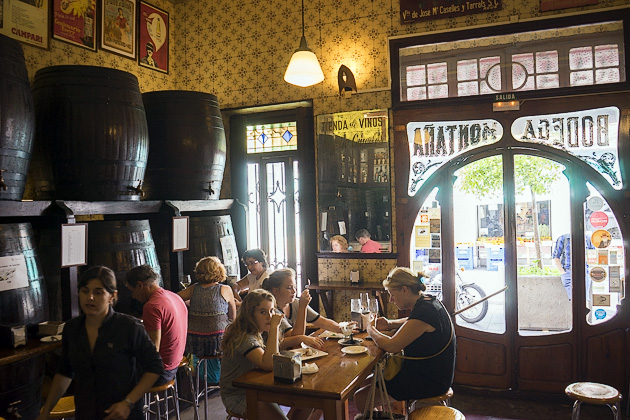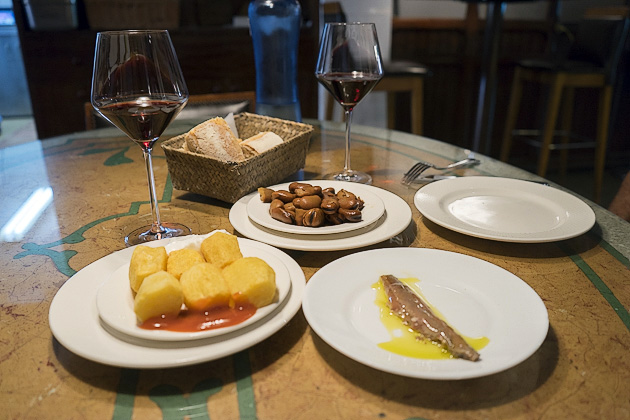 Casa Paquito
The old-time Fallas posters on the wall clue you in: Casa Paquito is as Valencian a restaurant as they come. Whenever we're in the mood for an affordable, competent, classic Valencian meal (which is quite often), we tend to show up here. Despite being in the middle of the city's tourism zone, the tables are usually occupied by locals. It's a shame that authentic, old-fashioned, family-run restaurants like Casa Paquito are in such short supply these days… but that makes it even more exciting to stumble upon them. [Location | Facebook]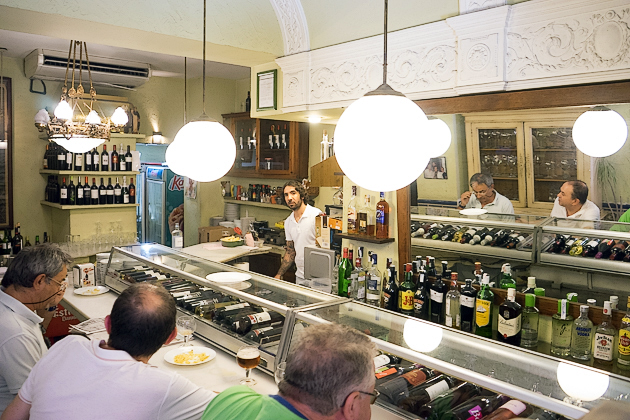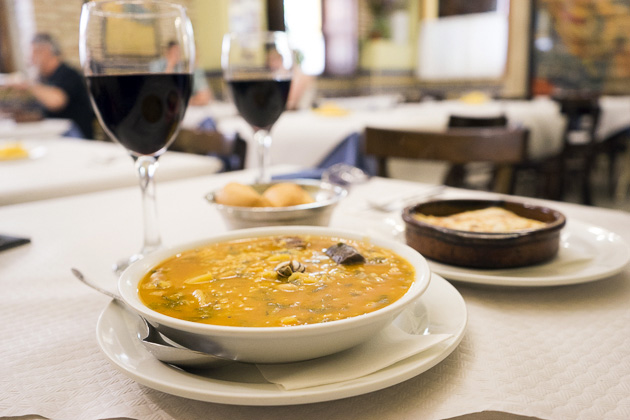 El Albero
On the advice of a friend, this was the first tapas restaurant we tried in Valencia, and it's still one we return to frequently. It might be a stretch to call this "Taberna Andaluz" a classic "Valencian" restaurant, but that hardly matters to us… nor does it to the people who pack the tables every night. There's a lot to choose from, and it's all good, but make sure that you don't skip the cazón en adobo (fried school shark). [Location | Facebook]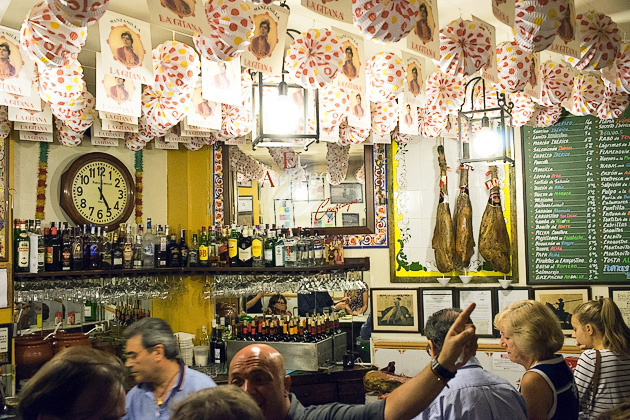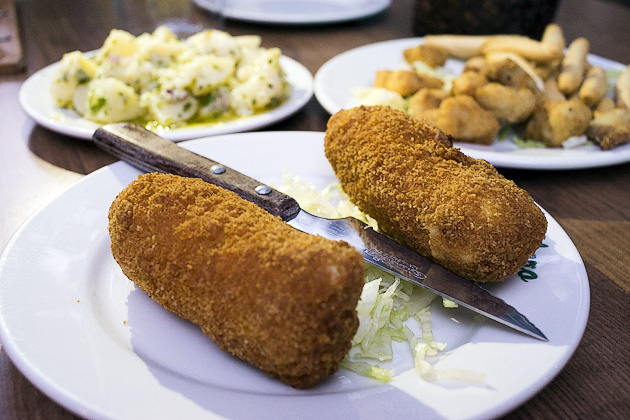 Bar Damas
Found in an alley abutting the Plaza de la Patriarca, Bar Damas is the kind of joint which has seen generations come and go, but has itself never changed. Bar Damas is not a fashionable hot-spot. It does not jump on the latest fads. Bar Damas is not trending on Twitter, nor does it probably understand what that even means. But what Bar Damas does understand is delicious, homemade meals… and that's something that never goes out of style. [Location | Facebook]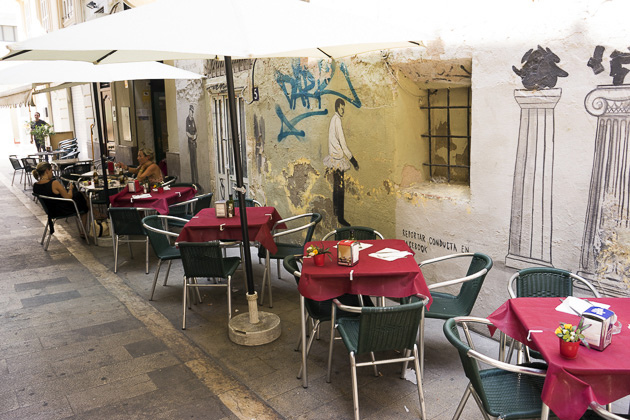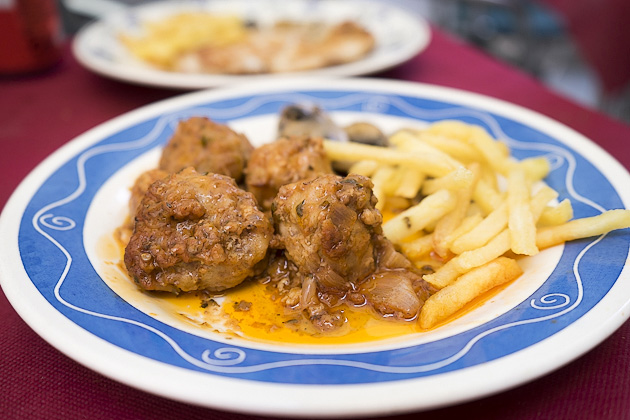 Central Bar
Hidden within the labyrinth of the Mercado Central is Richard Camarena's Central Bar. This shouldn't technically belong on our list of "classic" Valencian joints, because it's new. It's also trendy and rather expensive, which are traits we usually avoid. But bar-restaurants are a classic feature of Valencia's markets, and you're unlikely to find one serving better food than the Central Bar. Try the fried artichokes, if they're in season, the croquetas, the peppers, the oysters, the bocadillos, or basically anything else. Everything we've ever had here has been delicious. [Location | Website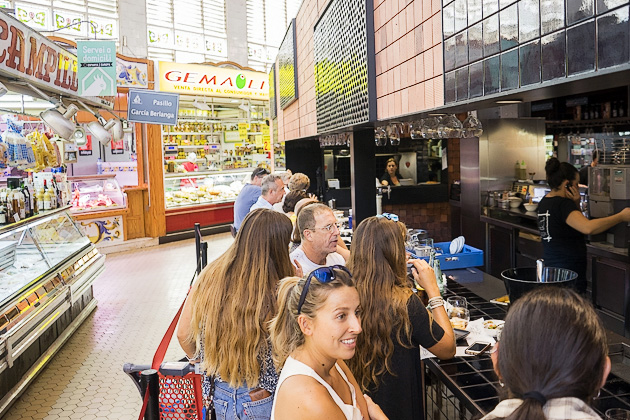 Bar Pilar
If you're in the mood for mussels, there's no better place than La Pilareta, just off Plaza Tossal. Bar Pilar opened in 1917, and has been serving up clóchinas valencianas and other tapas for the past 98 years. In 2010, the name was changed from "Bar Pilar" to "La Pilareta"… which is how most Valencians referred to it, anyway. [Location | Website]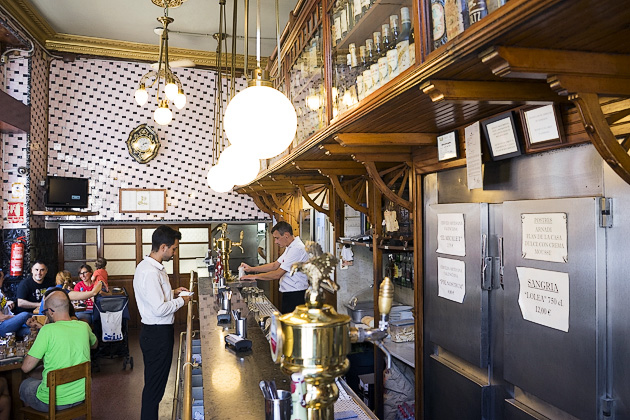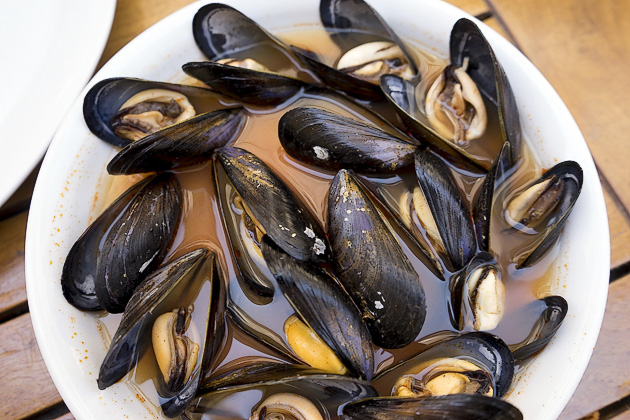 El Forcat
Meters away from the Torres de Serrano, on Calle Roteros, you'll find one of the best places in El Carmen to try Valencia's famous rice dishes. Every day, El Forcat cooks up a few pans of rice… paella valenciana, arroz al banda, arroz al horno, arroz negro… and you can check them all out before making up your mind. The menu del día is affordable, and the rice is always good. And somehow, despite being in such a touristy location, the clientele seem to be mostly locals. [Location | Website]
Bodega La Fila (Labrador)
If you're hoping for a quiet, candlelit dinner, where the only audible sounds are provided by the shuffling feet of discrete waiters, and your companion's whispered nothings, keep your distance from La Fila. This place is chaos personified, an ultra-popular bar that serves delicious wine, meat, cheese and anchovies at super-low prices that even students can love. And students do love La Fila. Shouting, laughing, yelling, drinking students generally occupy every single table, especially on a Thursday night. This place isn't for everybody, and it's not for every day, but if you're looking for a fun time out with buddies, you couldn't do better. [Location | Facebook]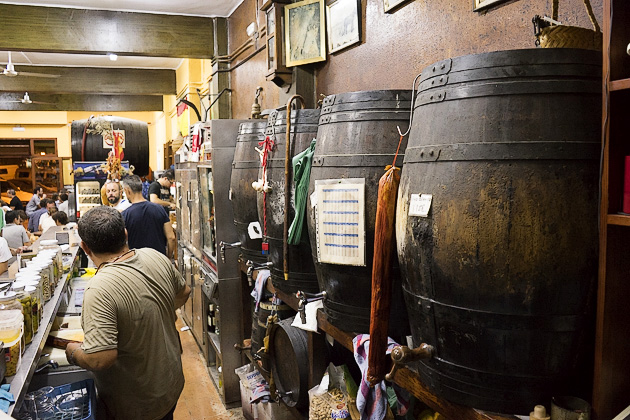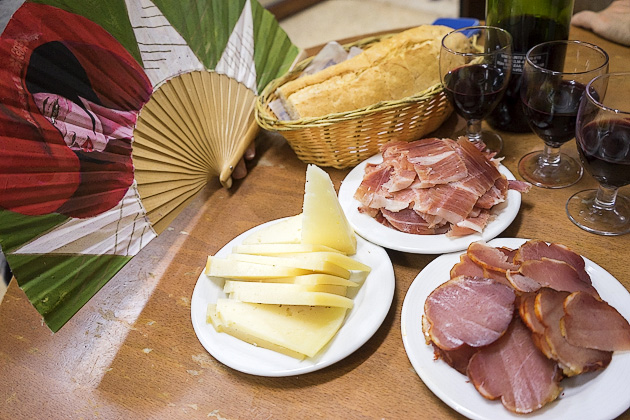 La Pepica
Oh shush, Valencia snobs, we hear your groans. Sorry, but we like La Pepica! Just because it's Valencia's most famous restaurant doesn't necessarily mean it's bad. La Pepica was established in 1898 on the promenade of the city beach, and has welcomed guests such as Orson Welles, Ernest Hemingway and the Spanish Royals. But despite its illustrious history, there's nothing pretentious or intimidating about La Pepica, and the prices are reasonable considering the setting, with its classic interior adorned in Valencian tiles, suited waiters zipping about as though they were on roller-skates, and views of the Mediterranean from the terrace. Reservations are highly recommended, and almost required on weekends. [Location | Website]