Sunny Greetings from Valencia's City Beach
Although it sounds crazy, there are a lot of visitors to Valencia who never bother to see the city center even once. These are the people who come primarily for the Mediterranean. The beach is a few kilometers from downtown, and when the sun is shining and the waves are sparkling, it's hard to resist spending yet another day on the sand. "Tomorrow we'll make it into town, get some culture." And then tomorrow comes, and the sun is shining again…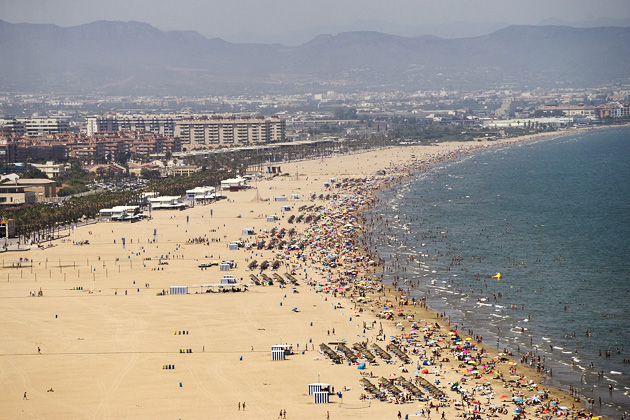 Two beaches actually make up what's generally considered to be Valencia's "city beach." The first is Las Arenas, named after the popular resort which has been welcoming guests since 1898. And the second is Malvarrosa, which begins at the hospital and continues north. But for all practical purposes, Las Arenas and Malvarrosa are a single, huge beach; there's nothing to indicate that you've crossed from one to the other.
Valencia's beach extends for six kilometers, from the port in the south, to a set of wave breakers in the north. Past that artificial barrier, the sand continues even farther, although at this point you're no longer in Valencia. Even more impressive than the beach's length, is its width. Separating the promenade from the Mediterranean Sea are at least 200 meters of sand. As you get farther from the water, the sand can become intolerably hot, so the great majority of the beach is usually empty.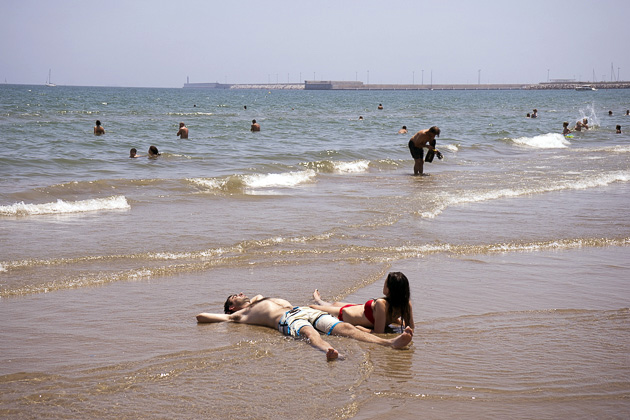 But near the water, the beach can be crowded. On sunny summer weekends, almost every square inch of sand is claimed by sunbathers, sometimes laying underneath umbrellas, sometimes sitting at their portable picnic tables. There seem to be an equal number of locals and tourists. You'll see friends wrestling in the water or playing paddleball, kids building elaborate sand castles, Spanish girls with their tops off, and Spanish guys with their legs shaved and shorts hiked all the way up.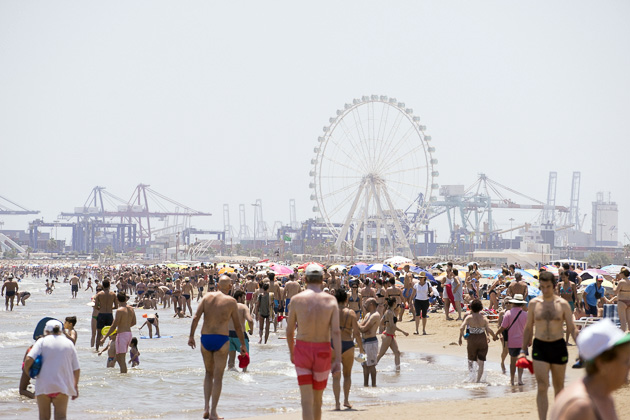 Happily, Valencia's beach is so large that, even when it's crowded, it never reaches the claustrophobic levels of many other city beaches around the world. You'll always find a place to spread out your towel, and the atmosphere is great. This is a beach where people come to have fun, and while there's a lot of commotion, it doesn't seem to bother anyone. It comes down to Spain's famous live-and-let-live mentality: you can enjoy the beach however you want, and as long as you're not deliberately disturbing those around you, it's fine.
As mentioned earlier, the beach is quite a distance from the city center. It's too far to walk, but biking is a great option, or you can take public transportation. There are a number of buses which run the length of the beach (lines 20, 21, 22 and 23), as well as the tram. And if you have a lot of stuff, or a group of four people, a taxi is relatively inexpensive.