For 91 Days,
we explored sunny Valencia, home of paella and the third-largest city in Spain. We already knew Valencia well… in fact it's our adopted home, and the place we return to whenever we're taking a break from traveling. Whether you're planning your own journey to Valencia, or are just interested in seeing why we chose to make it our permanent base, our articles and photographs should help you out. Start
at the beginning
of our adventures, visit our
comprehensive index
to find something specific, or choose one of the articles selected at random, below: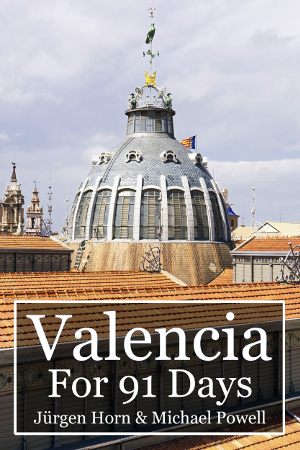 There's not a city in the world Jürgen and I know quite so well as Valencia. We lived here for years before starting our travel project, and should there ever come a day we're ready to settle down, it's to Valencia that we'll return. We figured our favorite city on Earth deserved the full attention of our blog, so we spent 91 days seeing the sights as though we were newcomers.
Located literally across the street from the beloved, city-defining Turia Park, the Viveros Gardens have a tough act to follow. But this large park acquits itself well, with a history, beauty, and atmosphere all its own.
Originally built in 1238, shortly after the Reconquista, the Iglesia Catedral-Basílica Metropolitana de la Asunción de Nuestra Señora de Valencia is the religious center of the Comunidad Valenciana. It's located in the heart of the capital, sandwiched between the city's two most important plazas: La Reina and La Virgen.
Despite its location in the center of Valencia, most people stroll right past the Palau de Cervelló without ever registering its presence. But don't miss out. Built in the 17th century for the Counts of Cervelló, this is the city's most important surviving palace.
Before cobbling together our concise history of the city, we decided to refresh our knowledge at the Valencian History Museum. Housed inside an old cistern, this museum takes visitors on a comprehensive tour from the days of the Romans to Francisco Franco.
The plantà on March 15th seems like a magical occurrence. Just as on Christmas morning, when children come downstairs to find presents under their tree, Valencians come onto the streets to find gigantic monuments erected all about their city. We visited the Ciutat Fallera, where a community of artists work as hard as elves, all year round, creating the monuments of Fallas.
An array of futuristic buildings occupying the eastern end of the Turia Riverbed Park, the City of Arts and Sciences is easily Valencia's most distinctive feature. When people think "Valencia," the sharp white lines, shallow blue pools and tile-covered curves of Santiago Calatrava's creations are generally what spring to mind.